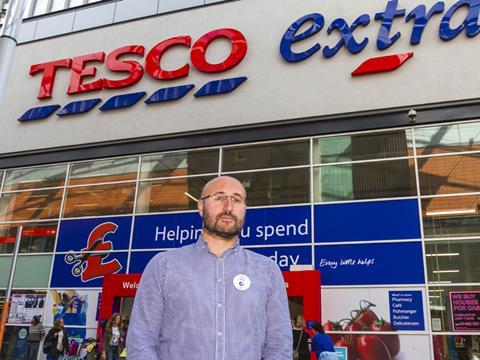 What's been the biggest change you've made since you scooped this award in August 2016? A year ago we changed our car park strategy. We're a city centre store in the middle of Hull and we brought in a new rule whereby customers get two hours free parking if they spend £5 in store. It's made it much easier to park for our customers, whereas before when it was free it was being blocked up by shoppers using the town centre. It's made a huge difference.
Winner: Tesco St Stephen's Centre, Park Street, Hull
Store manager: Nick Carolan
Size: 110,.000 sq ft
Opened: 2007
Market share: 13.2 %
Nearest rivals:
Iceland - 0.2 miles
Sainsbury's - 0.2 miles
Aldi - 0.5 miles
Asda - 0.7 miles
Lidl - 1.2 miles
Store data source: Analysis by CACI. Call the market planning group on 020 7602 6000
Speaking of motorists, how has the 'spend £60 get 10p off per litre' deal gone down? It's been very popular. It's a fantastic saving, if you think with the average 60-litre tank you're getting £6 off for filling up. I've been a store manager for 20 years and I think the offers and promotions we have generally this year are phenomenal.

Has anything changed inside the store? In August we had a new, 3,000 sq ft Holland & Barrett store open within the store. Customers have loved it and from speaking to the mangers they have been making double their store's budgets. It's a complementary offer to what we have.

How healthy do you think your food-to-go meal deals are? We have a huge range of healthy eating options in our food to go section. If shoppers want low-fat, no-sugar, high-fibre stuff, it's all there. We have sushi and bags of fruit in our snack offer and a range of different waters. We've also just a had a fresh fruit juice machine installed at the front of the store.

How did the big toy sale go over the weekend? We've just finished a four-day, three-for-two sale and they were flying off the shelves. We've had a lot of Tesco exclusives and a lot of the latest hit toys. The big thing this year has been the Lol Doll. It's been at a ridiculous price - we've been having people coming in trying to buy 10 of them so they can sell them on eBay.