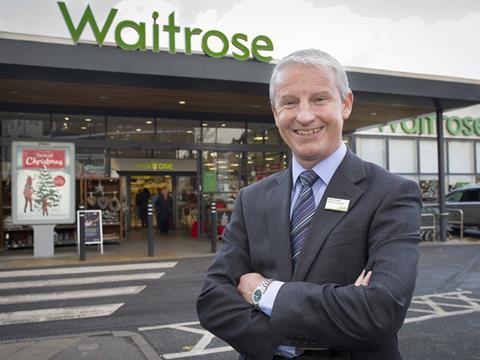 You received strong customer service feedback and our shopper saw you out helping customers on the shop floor. How important is that for you? Everyone is involved with customer service and we have the management team on the shop floor leading from the front. The team here is an experienced blend and the customer service we offer is a real point of difference for us. From day one we tell all our new partners that there's an opportunity to provide great customer service and they quickly latch on.

You recently opened a fresh sushi bar in the store - what has been the customer reaction? It has gone down a storm. There have been phenomenal sales in the first week and it has created a buzz. It's a point of difference because I don't think there's anyone else with a sushi offer in Balham and we're really pleased we have the concept here - it's a feather in our cap at the branch.

Seasonal products have started to arrive - what do you expect will be the top sellers this year? We've got our Heston Blumenthal range we relaunched this year with a couple of new lines - in particular there's a new Persian spiced Christmas pudding we're already seeing good pick-up on. It's also the time of year we see good pick-up on our Waitrose One products. Last year we had a big promotion on panettone and Christmas biscuits right at the front of the store, which proved really popular.

You recently launched the Coming Home for Christmas campaign in-store with a robin hunt around the store for kids. How has that gone down? We've had really great feedback on the Christmas advert and the trail builds on the Coming Home for Christmas theme. Even at busy times families are able to come in, pick up a guide at the welcome desk and there are clues around the branch like a wordsearch. It has gone down really well.
Winner: Waitrose Balham
Store manager: Steve Baller
Size: 15,000 sq ft
Opened: 2006
Market share: 4.6%
Nearest rivals: Sainsbury's - 300 yards, Tesco - 0.5 miles, Lidl - 0.7 miles, Co-op - 0.8 miles
Store data source: Analysis by CACI. Call the market planning group on 020 7602 6000