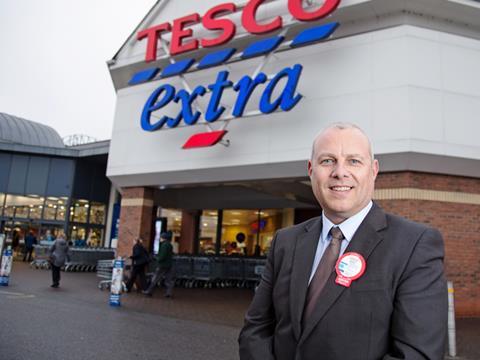 Wilmslow is home to lots of famous footballers and other celebs. Does that make your job as a manager easier? Our Extra is a 'super affluent' store and it definitely helps prevent some of the issues the bigger stores have come up against. But service is key no matter. I'm constantly working with my team to make sure our standards are the best.

How do you keep service levels high at this time of year? I'm always out visiting other stores to see how we compare and am so proud of my staff for winning this award. One of the things we have is a team of service ambassadors who are always on the shop floor to help customers find products. Tesco does this at certain times but I decided it was important to have all year round. I'm never without my lollipop team with their 'here to help' signs.

How did Black Friday go down in store? Customers seemed to love it. There was a real buzz in the store and it was busier than last year despite all the deals being available online too. Stuff was flying off the shelves.

What has been your most rewarding experience lately as a manager? The food bank collection we ran over last weekend was a fantastic success. I think because it was in the run up to Christmas our customers were feeling even more generous than normal.

We had people leaving whole shopping trolleys of food which goes to help people in need.

What is your tip for buying over Christmas? So far cakes and decorations have been flying off the shelves. But my own particular favourite for Christmas is the Finest cheeseboard. It's an absolute cracker.

Have you got any special initiatives lined up for Christmas? We're bringing back the festive five. I'm also planning on doing lots of sampling in store. I've been planning for this period for about six months and we're all ready to go.

What does it mean to win the Grocer 33 store manager of the week? I've been a store manager for 20 years and I've finally made it into The Grocer. We're all grocers at the end of the day and I'm absolutely chuffed for me and my brilliant team.
Winning store: Tesco Handforth Dean, Wilmslow
Store manager: Gary Ashton
Opened: 1995
Size: 80,000 sq ft
Market share: 12.9%
Nearest rivals: Lidl - 1.1 miles, Sainsbury's - 1.7 miles, Waitrose - 2.4 miles, Asda - 2.7 miles, Morrisons - 3.3 miles
Store data source: Analysis by CACI. Call the market planning group on 020 7602 6000