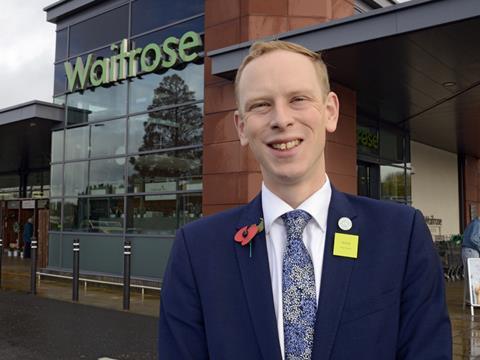 With the Christmas ad season upon us, how are the store's preparations going? We have a generous amount of seasonal lines because some customers only visit us at Christmas. They know they can trust us when it comes to quality and availability. We have an extra focus on service during the festive period because of those shoppers.

Are customers enjoying the Sushi Daily counter? Very much so. Aside from a Yo Sushi branch in the local area, our store was one of the first to market with a fresh sushi offer. We knew it would be popular because our pre-packed sushi products always sold well. The sushi counter led to additional self-scan tills being installed as well. Four out of the 10 tills we have are self-scan ones, but they're really well manned.

How do you tailor the store's range to Exeter's large student population? Many of our student shoppers are demanding when it comes to convenience, and keen to buy healthy and trendy lines, so we stock a lot of vegan and vegetarian products. Our newly extended range has sold really well. The store also does grocery deliveries within a 20-mile radius and that's very popular with students.

What was customers' reaction to the removal of disposable coffee cups? I was expecting quite a few bad reactions, but there's been so much positive feedback - customers have really embraced it. Reusable cup sales have been good too.

How have customers and staff taken to the '& Partners' rebrand? It's gone down very positively. I'm sure it'll take a little while to be fully embedded, but it certainly helps us keep our employee-owned model in mind, and highlights what differentiates us from our rivals.

The store got plenty of positive feedback about customer service. How do you reward that? Our partners are the essence of Waitrose so we have initiatives like performance-related pay to help recognise a job well done.
Winner: Waitrose Exeter
Branch manager: Nick Davis
Opened: 2011
Size: 21,000 sq ft
Market share: 6.6%
Nearest rivals: Iceland - 0.6 miles, Sainsbury's - 0.7 miles, Morrisons - 1.4 miles, Lidl - 1.4 miles
Store data source: Analysis by CACI. Call the market planning group on 020 7602 6000