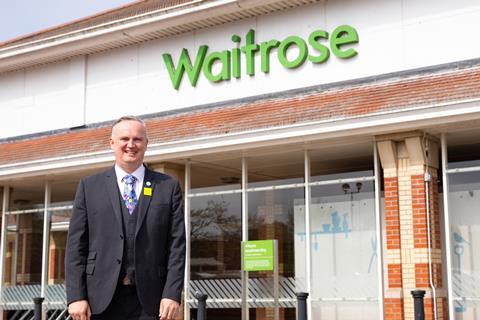 Winner: Waitrose Lincoln
Manager: Steve Ward
Opened: 2004
Size: 37,000 sq ft
Market share: 17%
Nearest rivals: Iceland - 2.4 miles, Asda - 2.5 miles, Aldi - 3 miles, Tesco - 3.1 miles
Store data source: Analysis by CACI. Call the market planning group on 020 7602 6000
How long have you worked at Waitrose? I'm coming up to 30 years with Waitrose and I've been at the branch since 2013. I love JLP's values and how it strives to give customers the very best service. I previously won the Grocer 33 when I managed Waitrose in Blaby, Leicester, in September 2008.
Availability was 93.9% in our mystery shop. Are you happy with that? Anything short of 100% is not a score I can be happy with. Perfect availability comes from investigating gaps, looking for the root causes and making improvements as promptly as possible.
What's the store's best element? Our team - they're the ones that make the difference. That's why Waitrose strives to develop and upskill them through a personal development plan.
How do you reward staff for a job well done? We reward partners for great customer service with managers recognising and verbally congratulating them, and positive shopper comments will also be placed on our staff pinboard. We'll also reward that partner with a gift or voucher in our One Step Beyond scheme.
The branch got top marks for standards. How? You've got to be nothing short of relentless when it comes to shop standards. Partners have to have a personal pride in the way the branch comes across.
What would you change about the store? Our refrigeration system is pretty much on its last legs, so it'd be great to get a new one. I'd also like to expand our café so it's more of a space for a dining experience.
How is your online grocery delivery service doing? Very well - we've seen double-digit growth over the past year. Online grocery is very competitive, but with the Ocado deal, we've got a big opportunity.
How was Easter trading? Very strong. Our Heston Blumenthal lines stole the show again this year, especially the Chocolate Teapot and Chocolate Scotch Egg.