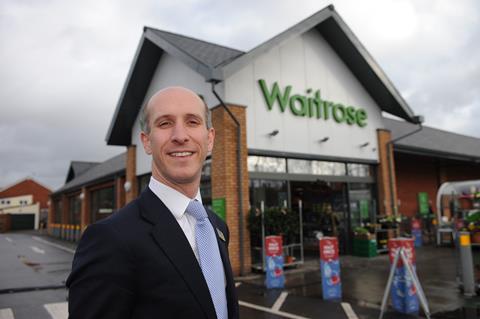 How was your Christmas trading? It went really well - the smoothest Christmas we've had, according to partners who have been here for seven years. Sales exceeded all expectations. People trade up for Christmas and that's the strength of Waitrose. Waitrose 1 top-of-the-range products did very well, such as Waitrose 1 Gelato and the Smoked Salmon. We sold 50% more Christmas trees than last year because of the great selling ability of one of the partners, Jodee Culver-Evans, who loves her horticulture and is really enthusiastic. She's just one example. I can't take credit for any of it. It's down to everyone's enthusiasm.

How have the new Good Health labels gone down? They are very recent so it's hard to see the sales numbers. They have featured on our fresh food main end over the past month and they seem to be moving exceptionally well. I think people trust Waitrose so they know we are not just slapping a label on something. They are looking to buy healthy, tasty and good value and they've got all that.

What are the most challenging issues you face day to day? Our car park is quite small. It's a busy shop and we are the only free car park on the high street. That has a benefit in that we draw customers in but it's often busy. If I could change anything I'd have a bigger car park. There's nowhere else really they can park on the high street. Also, being a small store, one of the challenges for us is to pack a lot of lines into a very small space, which means people can do a full trolley shop in quite a small shopping area.
Winner: Waitrose, High Street, Wellington, Somerset
Store manager: Tim Broadhurst
Opened: 2011
Size: 14,000 sq ft (sales)
Market share: 23.6%
Nearest rivals:
Asda - 1.0 miles
Tesco - 5.5 miles
Morrisons - 6.1 miles
Sainsbury's - 6.9 miles
Store data source : Analysis by CACI. Call the market planning group on 020 7602 6000
What new developments are taking place? We've had the relaunch of Essential Waitrose over the past six months. That's gone down pretty well with our customers. They're very good products at very good prices.

How do you fare against the competition? I think all our competitors have something different. We draw a massive demographic from a very large area. People travel all the way across Exmoor to visit us because it is the only Waitrose they can get to. Some of our customers travel up to an hour. We have one of the biggest e-commerce delivery areas in the country and we are just about to add a fourth van to the operation.