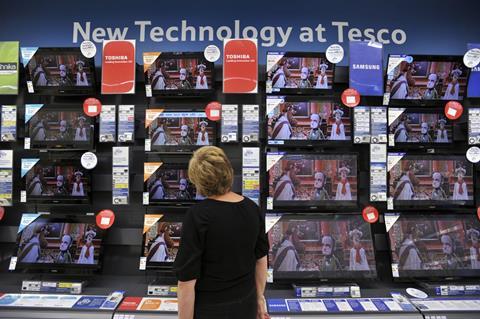 English supermarkets are facing a major consumer backlash after government guidance on the sale of non-essential products during lockdown saw them close off large areas of stores over the weekend.
Last week, retailers were told by ministers to shut down separate mezzanine floors, standalone neighbouring buildings and concessions selling items such as homeware, clothing and electronics.
However, the move has seen a large number of shoppers take to social media to attack supermarkets for barring the sale of products such as children's clothing. It follows an earlier, even more draconian, ban in Wales in its 'firebreak' measure, which ended today.
Tesco closed its mezzanine departments on the back of the lockdown guidance.
A Tesco spokeswoman said: "In line with new government guidance in England which requires the closure of separate floors selling non-food items, we have closed the clothing and general merchandise departments in our stores that sell these products from a separate mezzanine level."
A tired first time mum, come to @Tesco to do my food shopping and grab baby clothes for the cold weather only to walk in and find the whole baby section (along with other sections) closed off as they are not deemed essential. How is it not essential to be able to dress my baby? pic.twitter.com/WBmHIqM7xX

— Charlotte White (@charlottewhitey) November 7, 2020
Tesco said staff would be available to help customers access items if they needed them for essential reasons.
However, Sainsbury's, which has around 20 such departments, has kept them open, claiming that the sale of Tu children's clothes makes them essential.
Supermarket sources told The Grocer the government's lack of clear advice to customers had led to confusion and seen retailers bear the brunt of the backlash.
"In trying to avoid being seen as a draconian government like the move in Wales, the government has made the situation ambiguous and left it to retailers to face the flak," said one source.
Another supermarket source added: "Although the ban which has been in place in Wales was far worse, the way the government has gone about it has confused customers. We would much rather they had just come out and been clear with consumers and said this is what we are telling supermarkets, this is what they must do."
Supermarkets were inundated with complaints over social media after implementing the ban on Saturday.
One angry shopper tweeted: "Will you remember this is not North Korea."
Another added: "So Tesco are restricting the sale of clothes for babies but allowing the purchase of alcohol and fireworks, it's an absolute disgrace and customers won't forget this."
"My friend's just been refused to buy school shoes for her daughter," another fumed. "Please explain how school shoes are non-essential items but alcohol is."
@Tesco why are your clothing areas shut this time round when they were open for the last lockdown?! I don't get how kids clothes and shoes are non essential, especially winter coats now the days are getting colder!?

— Georgina Nash (@georgie_nash) November 9, 2020
Meanwhile a row is continuing over whether other stores such as The Range, Carpetright and Ryman should be continuing to trade during lockdown despite selling mainly "non-essential" goods.
Andrew Goodacre, CEO of independent retailers group Bira, said: "We have been pushing for clarity and we are pleased to see some clearer guidance on the types of essential shop and the products available.
"However, we already have concerns that large stores are flouting the rules and would question the percentage of 'essential' items sold through the likes of B&M and The Original Factory Shop.
"We are also aware that Carpetright is open whereas we have advised all our members selling flooring to close."
He added: "We have had lots of questions and complaints from members about the actions of other retailers and the unfairness of the regulations. I have raised all these issues with the business minister and BEIS since Monday and these guidelines seem to reflect some of the concerns we raised."
The BRC described the guidance as "arbitrary" and blamed the government for causing confusion among shoppers.
Despite repeated requests from the Grocer, BEIS refused to comment.