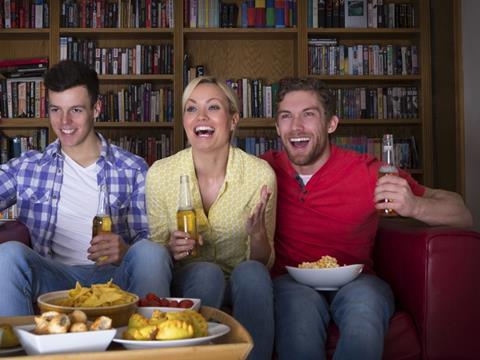 England had trouble finding the back of the net - but shoppers had plenty of opportunities to score during the World Cup.
Some of the biggest bargains could be found either side of England's latest embarrassment, with deep deals offered in the week before kick-off [w/e 6 June] and in the week Hodgson's boys headed home [w/e 26 June].
In bagged snacks, multipacks of crisps offered some of the best deals, with the average volume price (the price per kilo) down 9% when comparing the past four weeks with the same period a year ago [BrandView.com]. Sharing bags, meanwhile, were down 5.4% year-on-year.
Deep savings could be found on particular brands - with Pringles obviously seen as a big draw for football fans. The average volume price of Pringles plunged 27.2% year-on-year from £9.12 to £6.64 a kilo over the four weeks - although brand owner Kellogg's said this was not a "particular strategy" on its part. "Pricing is at the sole discretion of the retailers who have chosen to offer shoppers value at a key snacking time of year, driven by consumers watching more football this summer," added a spokesman.
Among other brands to go down in price were Kettle Chips (-6.3%), Phileas Fogg (-11.1%), and Walkers' manly Deep Ridged (-7.8%).
Crisps seemed to be getting all the attention in bagged snacks, with the retail price of nuts virtually static year on year.
Thrifty shoppers needing a drink to go with those snacks will have been better off opting for beer - which in the case of many major brands was cheaper in the run up to this World Cup than ahead of the 2010 tournament [The Grocer, 14 June 2014, p4].
Soft drink prices were static overall, although savings could be found on multipacks - down 3.2% on average. Cola multipacks were down an average of 8.1%, which will have contributed to a 25% year-on-year increase in value sales of cola in the first week of the tournament [IRI 52 w/e 14 June].
Sales of pies and sausage rolls were also boosted by football [IRI], although this appears to have been without the help of promotions as the average price of pork pies, pasties and Scotch eggs was up year-on-year. Savings could be found on sausage rolls, however - down 3.8% on average in price [BrandView.com].
Pizza deals were heavily advertised by some retailers ahead of the World Cup, and big savings could be had on chilled branded pizza in the week before kick-off, when the average kilo price fell from £10.10 a year ago to £9.01.

Pizza prices rose as the football got under way, before plunging to £8.83 the week after England's exit, way below the £10.24 in the same period a year ago. Perhaps something had made Brits lose their appetite and retailers found themselves with stock to shift.
Wholesale prices: lamb prices rise - both in the UK and New Zealand
Lamb prices are on the rise in the UK and in New Zealand.
Prices for New Zealand lamb are up by nearly 17% year on year in response to tighter supplies. Exports from New Zealand during the first half of the 2013/14 season were down by 3% on 2012/13, pushing up prices.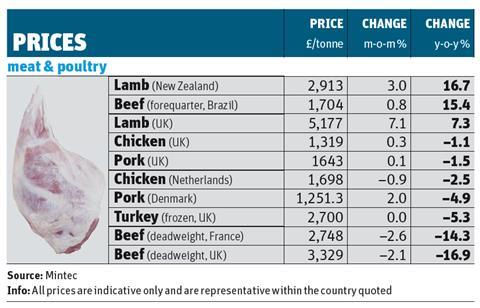 Meanwhile, tight supplies are also driving up UK lamb prices, up by 7.1% month on month and now up 7.3% on this time last year. Seasonally high demand during the recent Easter period has further helped support prices.
In the beef sector, Brazilian prices are up year on year because of high demand for exports and tight domestic supplies. Closer to home, however, beef prices are falling: French beef is down nearly 15% year on year because of increased levels of production, while UK beef prices are down 16.9% on last year thanks to lower feed costs and an expected 2% increase in production in 2014.