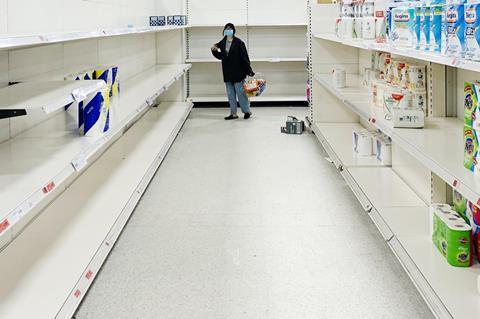 Morrisons has reintroduced purchasing limits on products including toilet rolls and disinfectant, amid fears of a new wave of panic buying.
Despite supermarket bosses urging customers not to stockpile, the supermarket said it was placing limits on key products.
In lockdown in March, restrictions on those limited products had to be extended across most food and drink products, as customer stockpiling caused a huge spike in demand across most food and drink sectors.
The government and retail bosses are desperate to avoid a repeat of those shortages.
A Morrisons spokesperson told The Grocer: "We are introducing a limit on a small number of key products, such as toilet roll and disinfectant. Our stock levels of these products are good, but we want to ensure that they are available for everyone."
The move has been communicated on social media channels to Morrisons customers.
Read more:
One store manager in East Sussex told customers yesterday: "From tomorrow morning we will be putting restrictions back on certain products across the shop…not because we don't have any stock but to stop the need for people to panic.
"We have deliveries every day, some days up to four, so please when you come shopping just get your normal amount and think of others."
A series of retailers have told The Grocer the one thing that could cause a repeat of the empty shelves seen at the start of the pandemic was a sudden surge in demand from shoppers.
However, there have been various reports of shelves being emptied of products including loo rolls.
In an email to customers earlier this week, Aldi UK & Ireland CEO Giles Hurley assured them there was no need for to buy any more than usual, the behaviour that saw shelves stripped bare in March.
"I would like to reassure you that our stores remain fully stocked and ask that you continue to shop considerately," Hurley said. "There is no need to buy more than you usually would.
"We have remained open for our customers throughout the pandemic and will continue to have daily deliveries, often multiple times a day, across all of our products."
Tesco boss Dave Lewis said stockpiling was "unnecessary" as there was no disruption to product supply chains as a result of new government measures to tackle rising Covid-19 infection.
Lewis told Sky News: "The message would be one of reassurance. I think the UK saw how well the food industry managed last time, so there's very good supplies of food."