This article is part of The Grocer's Green Issue, read the digital edition here.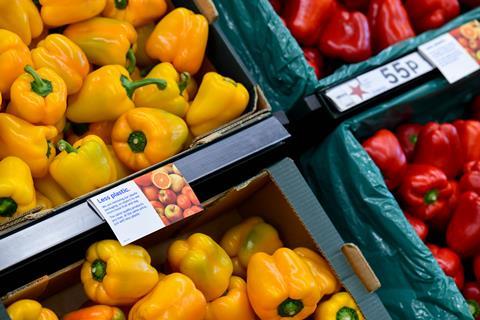 Almost 30% of shoppers have admitted to feeling less comfortable buying loose groceries since the outbreak of the pandemic, according to new research for The Grocer.
A Harris Interactive survey of 1,000 UK shoppers found 36% felt sustainable packaging had become more important since the start of the pandemic, with only 11% considering it less important.
Yet 29% of respondents felt less comfortable buying loose groceries, compared with 11% who felt more comfortable, with paper packaging (28%) considered the safest option, while no packaging (12%) was deemed barely any safer than plastic packaging (11%), despite research showing the coronavirus can last for up to three days on plastic, according to academic research published in the New England Journal of Medicine.
Asked what changed their minds, the most common concern cited by shoppers was safety, at 46%, followed by a change of values at 45%, while 28% cited budget concerns.
As plastic packaging consumption soared during lockdown sales of loose foods dropped 6% in the four weeks to 14 June [Kantar]. And many retailers put normally loose foods in single-use plastic bags as a result. Supermarkets such as Sainsbury's, Lidl and the Co-op began pre-bagging loose bakery products, though most reversed the move as the UK emerged from lockdown in July.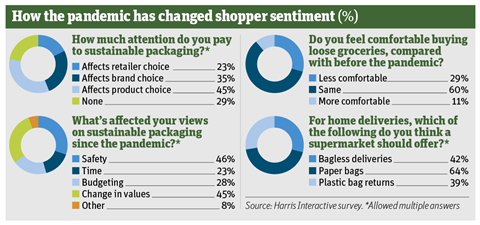 In convenience, packaging-free retailer Thornton's Budgens in Belsize Park was forced to wrap its pastries and bread rolls in plastic after bakery sales fell 35% in April, while the Eros chain in Scotland put previously loose fruit & veg in plastic bags.
But Catherine Conway, the zero-waste consultant who helped Waitrose create its 'Unpacked' store concept insisted she was "businer than ever" and was "pleasantly surprised" at the approach retailers have taken towards refilling during Covid.
"All the retailers we have supported – Waitrose, M&S, Planet Organic, none have shut these initiatives down, none have stopped shoppers from bringing their own containers to refill in their bulk sections.
"And we are engaging with all the major retailers who all say they are still going ahead with various refill/reuse trials".
"Some trials are delayed but I'm still expecting activity ahead of Christmas. We're turning discussions into actions and innovation. I've not stopped working since Covid hit, which is a great sign that environmental issues and solving the packaging crisis is still on their radar. Retailers realise that recycling alone won't fix the problem. The message I'm getting is that they're up for the challenge."
She added there was actually more nervousness from shoppers in the independent zero waste shop sector (of which there are several hundred across the country), with many switching to a click and collect model "which turned out to be very unprofitable due to the cost to serve of each order - most have now switched back to traditional retail."
Nor was Conway altogether surprised that so many shoppers were nervous about buying items loose amid widespread fear over the killer bug. "Fair weather refillers or those who are new to refilling are naturally more likely to stop if they have other competing priorities, like how to get in and out of a shop fast enough in covid times.
"It's those we need to keep engaging with to convert them to committed refillers."
Conway also refuted suggestions that buying produce loose was inherently unsafe.
"As a respiritory illness, the science shows you're far more likely to catch coronavirus by standing next to someone. There is an increased risk from any shared assets in a retail environment, like trolley, basket handles and fridge doors, and bulk hoppers should be treated the same way, with increased cleaning and sanitisation but they're not inherently higher risk."
Having suspended bagless deliveries, supermarkets have also started to reintroduce them, but the survey found more shoppers (64%) wanted paper bags than bagless (42%) or for plastic bags to be collected (39%).
Our survey also found more shoppers (41%) were concerned about their inability to recycle packaging than excessive product packaging (39%), and 47% felt packaging recyclability more important than packaging reduction (33%) or compostability (16%).
Conway added that shopper attitudes towards recycling reflected a failure of imagination. "You can't say what you can't see. The average shopper doesn't have much concept about how products would get to them if there wasn't any packaging. They don't know any better. We've spent the last 30 years optimising single-use packaging and promoting a message that prioritised value and convenience over everything else. If there were lots of options like Loop you might get a very different answer to that. It's a real issue when we speak to retailers and brands and part of all of our jobs is to educate consumers about what might be possible."
When it came to recycling, 72% thought recycling facilities offered by local councils were either poor or average. Shoppers aged 35-54 were the most critical, with the percentage rising to 77%, followed by 18 to 34s at 71% and over-55s at 67%.