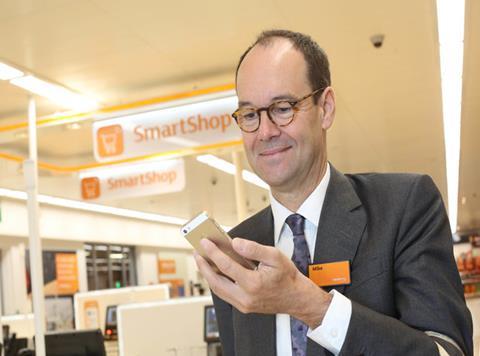 Sainsbury's is trialling a number of new concepts aimed at making the shopping experience easier for customers at six of its supermarkets.
The new concepts include developing a new food-to-go section at the front of the store as well as moving its fresh bakery products from their traditional location at the back to sit alongside the food-to-go. It is also locating fresh produce and frozen closer together to help customers choose between similar products and has revamped its counters to feature a wider range and more choice including new-look delis, butchers and a bigger selection of hand-finished cakes in the patisserie counter.
Sainsbury's said the majority of people still do their food shopping in supermarkets, but are increasingly doing smaller shops, more often, hence the food to go trial which is effectively a convenience store within the existing supermarket.
The retailer has also added 30% extra non-food products into the trial stores. However all clothing, homeware, technology and pharmacy products will be displayed in the outer aisles of the store for people with more time to browse.
The six trial stores are Alperton in London; Devizes in Wiltshire; Emersons Green in Bristol; Harpenden in Essex; Morecambe in Lancashire and Tamworth in Staffordshire. Different elements are being trialled in each of these stores.
Sainsbury's is also piloting two new types of checkout as part of the trials. In addition to manned checkouts and self-checkouts used for basket shops, Sainsbury's is offering customers a larger self-checkout option for people with small trollies. While in the two stores (Alperton and Harpenden) that are piloting Sainsbury's new shopping app, 'SmartShop', people can also checkout via the new SmartShop handset.
When fully tested and ready to roll out, SmartShop will enable customers to scan in their shopping lists at home. Once they get to store, the app will show a map locating their chosen items around the store and they will pay via their mobile phone.
"The majority of people still do most of their shopping in supermarkets and that's a trend that will continue, but we need to make our supermarkets more convenient for people who visit often to do a smaller shop. This trial is about seeing how far we can go in catering for every shopping mission, whether someone wants to pop in quickly to buy a sandwich for lunch, or whether they have more time and want inspiration for the home, or advice on tech and gadgets," said Sainsbury's CEO Mike Coupe.
"No matter what customers are buying, we know that everyone wants to check out as quickly as possible and giving customers more checkout options to suit them is key to the trial. The pilot stores will act as a barometer for feedback and we're listening to what customers tell us along the way. This is very much a trial and we know that not everything will work, but certain elements are already proving very popular and we would hope to roll those out more widely where feedback is consistently positive."
Meanwhile Sainsbury's is also trialling a new format convenience store opposite the company's HQ in Holborn. The store, which is just under 1,000 sq ft, is the smallest Sainsbury's Local to date and is designed to meet the needs of people working in the area who want to buy food for breakfast, lunchtime or get something on the way home for dinner. It will not sell lottery or tobacco with the retailer claiming that these products would impede the flow of shopping for these key mealtime missions.
Sainsbury's said finding the right stores in the right locations is a challenge and this new format will open up more property opportunities if it proves successful.