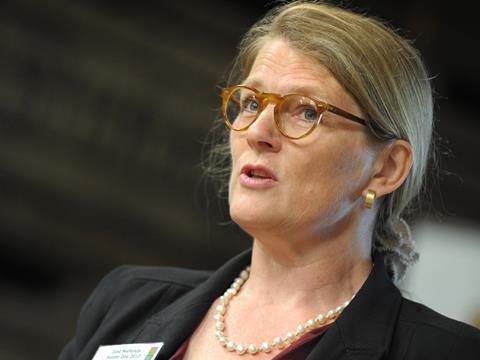 Groceries Code Adjudicator Christine Tacon has launched an investigation into Tesco after revealing she had received evidence of breaches of the code in regards to the supermarket's dealings with suppliers.
Tacon said today she had enough evidence to form "a reasonable suspicion" that the retailer has breached the Groceries Supply Code of Practice. The evidence is understood to relate to large sums deducted from suppliers' accounts by Tesco for areas such as promotions, better placement of products and late deliveries.
"I've even heard of deductions where there has simply been no explanation at all," Tacon told The Grocer.
It has emerged Tacon's investigation comes after evidence handed to her by the Deloitte investigation into the £263m black hole in Tesco's accounts, an investigation called by CEO Dave Lewis. "This is being done with the full cooperation of Tesco and on the back of evidence I've received from Tesco on top of what I'd already heard," she added.
The adjudicator said the evidence related to deductions in relation to historic promotions, which had not been agreed with suppliers. However, it will also look into the extent to which suppliers have been required to make payments for better positioning of goods (shelf-positioning) which are not related to a promotion.
Tacon said that "at this stage" the investigation will focus on Tesco plc only and not extend to other retailers, although she did not rule out a wider probe.
"If, during the investigation, evidence is presented to the GCA which indicates that the same practices have been carried out by other designated retailers, consideration will be given to extending the scope of the investigation to include them," she said. "This is the first investigation I have launched and it is a significant step for the GCA. I have taken this decision after careful consideration of all the information submitted to me so far.
"I have applied the GCA published prioritisation principles to each of the practices under consideration and have evidence that they were not isolated incidents, each involving a number of suppliers and significant sums of money."
The move comes just days after MPs set in motion powers to give Tacon the ability to issue huge fines on retailers of up to 1% of their turnover.
A spokesman for Tesco said: "We have worked closely with the office of the Adjudicator since its creation to put in place strong compliance processes An internal review we carried out and shared with the GCA identified some areas of concern. We have taken action to strengthen compliance and, as we announced, we are changing the way we work with suppliers."