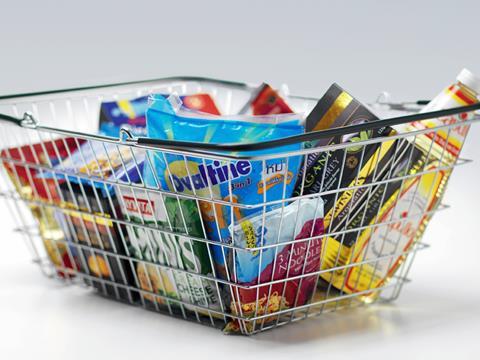 Aldi and Lidl have reached a combined 10% of the grocery market for the first time, the latest Kantar Worldpanel figures show.
Lidl enjoyed a 19% surge in sales year on year in the latest 12-week period to 8 November from £918m to £1.09bn, outdoing Aldi's growth rate of 16.5%, from £1.21bn to £1.41bn.
Aldi has the biggest market share of the two German discounters with 5.6%, up from 4.8% in the same period last year with Lidl on 4.4%, up from 3.7%.
Sainsbury's was the only one of the big four to enjoy increased sales - up 1.5% to from £4.08bn to £4.15bn, with a 16.6% share of the market, up from 16.4% in the same period in 2014.
Sales at Asda fell 3.5% from £4.27bn to £4.12bn. Its market share fell from 17.1% to 16.4%. Tesco's market share fell from 28.7% to 27.9%.
Morrisons share of the total till roll fell 1.7% from £2.76bn to £2.72bn, giving it a market share of 10.8%, down from last year's 11.1%.
Fraser McKevitt, head of retail and consumer insight at Kantar Worldpanel, pointed out that Aldi and Lidl only held a 5% share of the market as recently as 2012 and it had previously taken them nine years to double their combined share from 2.5%.
"In the last 12 weeks the two retailers have attracted another additional million shoppers compared with last year, while average spend per trip has increased by 4% to £18.85, which is 78p ahead of the total retailer average."
The discounters showed no sign of stopping, he said, and with plans to open hundreds of stores between them, they'll noticeably widen their reach.
McKevitt said Sainsbury's had seen its fourth consecutive period of growth, flying in the face of tough market conditions. Its 1.5% increase in sales was sufficiently ahead of the market for the retailer to increase its share by 0.2 percentage points - the first share gain registered by any of the big four retailers since October 2014.
"Sainsbury's performance means it has once again regained its position as Britain's second-largest supermarket, pushing ahead of Asda in the latest 12 weeks. The food-focused retailer traditionally increases its market share over Christmas, so we can expect to see it keep hold of second place for the time being."
Jonathan Neale, joint managing director, buying at Aldi, said the company's sales growth and market share performance during 2015 had been "incredibly strong".
The discounter was expecting "an exceptional Christmas" this year after making its biggest-ever investment in product innovation and range such as its Champagne and Specially Selected Exquisite Mince Pies.
"Christmas is when we typically see a spike in new shoppers visiting Aldi and we expect a significant contribution to sales growth over this period from our new stores that opened during 2015," Neale said.