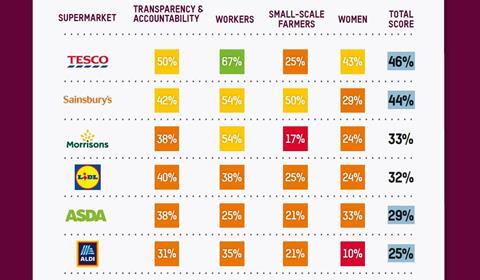 Aldi has slipped to the bottom in Oxfam's latest annual scorecard ranking supermarkets on their human rights policies.
The discounter slipped two places from fourth to six, swapping places with Lidl.
Meanwhile Morrisons, the most improved of the six supermarkets since the first scorecard two years ago, has climbed two places to third.
It leaves Asda now languishing in fifth, having slipped two places to take Morrisons' former spot.
Tesco comes top and Sainsbury's comes second for the third year in a row.
Oxfam's Behind the Barcodes campaign gives each supermarket a percentage score based on its published human rights policies in the four areas of transparency and accountability, workers, small-scale farmers and women. It also provides an average of the percentages in each of the four areas.
This year, Tesco got 46%, Sainsbury's 44%, Morrisons 33%, Lidl 32%, Asda 29% and Aldi 25%.
All the supermarkets had bettered their scores since last year but Aldi had been left behind by Lidl, the most improved, having gained 23 percentage points, said Oxfam ethical trade manager Rachel Wilshaw.
Aldi got just 1% in Oxfam's first scorecard, in 2018. It then engaged with the development charity and made commitments which boosted its score to 19% by last year, but its rate of improvement had since slowed, Wilshaw said.
"Aldi is definitely the laggard this year in the UK," she said. "They haven't really engaged with us on what the issues are."
Meanwhile Lidl had "done quite a lot across all the different areas and that's what's enabled them to jump up", Wilshaw said.
Lidl addressed some of the concerns raised by Oxfam last year with the publication of a new human rights policy. The charity's verdict had been particularly scathing on Lidl's publicly disclosed practices to tackle discrimination against women, an area where it scored 0%. Lidl has since signed up to the United Nations' Women's Empowerment Principles and committed to publishing a gender policy covering both employees and supply chains by next year.
"We are particularly pleased with the progress Lidl has made," said Wilshaw.
Morrisons had also made great strides to become the most improved since the first scorecard in 2018, having gained 28 percentage points.
"Morrisons have significantly increased their transparency," said Wilshaw. "Like Lidl they have signed up to the UN Women's Empowerment Principles.
"They are one of the very few companies – and the only one on our scorecard - that has published their first-tier supply chain, so that people can see where their products are coming from. M&S and Waitrose also have but they're not on the scorecard."
On the other hand, like Aldi, Asda had slipped back by failing to engage on the issues, Wilshaw said. "It isn't that they've got worse, it's just that all the other companies have engaged in the issues we're concerned about and Asda just hasn't," she said. Along with Aldi, Asda has made the slowest progress in the past year, gaining six percentage points.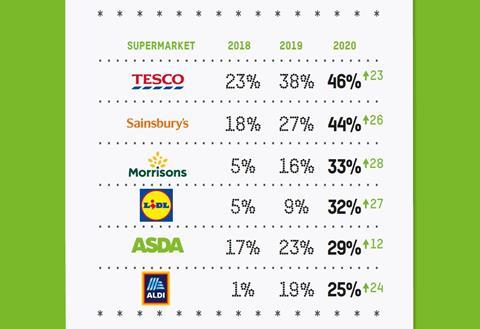 Aldi's bottom-placed ranking comes despite the supermarket picking up the Thomson Reuters Foundation's Stop Slavery Enterprise Award in March. The discounter is likely to find itself the target of Oxfam protests and petitions in the year ahead.
An Aldi spokesman said: "We are disappointed by our ranking which is based on Aldi internationally, and doesn't reflect the real progress Aldi UK has made or the level of our commitment to protecting the rights of workers in our supply chain. Oxfam has a specific methodology based on desktop research but a different assessment by The Thomson Reuters Foundation earlier this year judged Aldi UK to be 'best-in-class' based on the policies and processes we have in place to limit the risk of slavery in our supply chain and operations. It awarded Aldi with the Stop Slavery Enterprise Award.
"We will continue to engage with Oxfam and share information about our work and progress in this area, which we hope will be recognised in their future assessments."
Wilshaw said progress across the board meant the supermarkets on the UK scorecard were now the six highest scoring on the global scorecard, which covers the US, Germany and the Netherlands.
She said Tesco and Sainsbury's led the way by having human rights safeguards more embedded in their operations. Tesco, for example, was the only company which offered incentives to suppliers for improving labour standards. "They recognise it's not enough to just have a policy and tell suppliers to comply with it," said Wilshaw. "They recognise the need to address how they do business with those suppliers, so the suppliers are doing the right thing by workers.
"The overall scoring remains pretty low," added Wilshaw. "No company scores above 50% on the scorecard. Supermarkets still have much to do to embed what they do on human rights and turn their commitments into improvements on the ground for workers and farmers.
"This is about protecting the rights of those vulnerable people making our food."