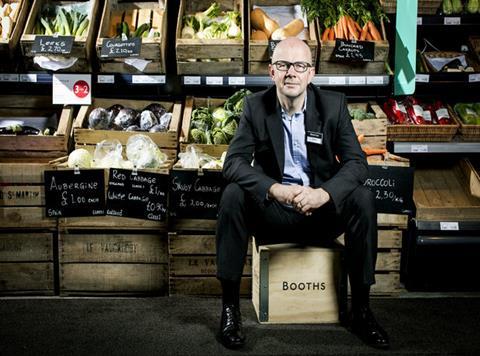 In his 22 years at Booths, chief executive Chris Dee had established himself as part of the family. Rising up from the position of wine buyer to become the first "outsider" to run the family business in 2015, Dee became the trusted right-hand man of chairman Edwin Booth.

So Dee's sudden departure this week, as revealed by The Grocer, with no information on his next role, raised more than a few eyebrows. Rumours abound over Dee being pushed out, having struggled to turn around the northern supermarket chain, prompting Booth to seize back control. But it's only one theory. What's the truth?
Chris Dee CV
1988: Manager, Addison Vintners
1990: Owner, Vin Extraordinaire
1994: Wine & spirits buyer, Booths
1998: Marketing and IT director, Booths
2000: Director, everywine.co.uk (alongside Booths role for 11 years)
2004: Buying director, Booths
2009: Trading director, Booths
2012: COO, Booths
2015: CEO, Booths
Dee undoubtedly had a difficult two years at the helm. In his first Christmas trading period as CEO, Storm Desmond forced Booths to shut three of its 28 branches in the North West. Management responded quickly by setting up a pop-up shop in Keswick to sell 600 lines during its busiest trading week of the year. But the storm took its toll, and Booths estimated the damage cost 1.4% in sales growth for the 2015-16 financial year. The event contributed to a dispiriting set of annual results, announced last November. Sales fell by 0.7%, despite the 28-strong chain adding four new stores to its estate, with pre-tax losses of £6.1m (versus profits of £1.1m the previous year) also caused by £1.6m of restructuring costs (involving 100 senior management redundancies) as well as the cost of the new stores. Meanwhile, trading profits fell from £3.1m to £2.6m.

It was the latest chapter in a long-term decline in profitability since 2012, when trading profits were over £6m. And a senior retail expert believes the CEO role would have proven challenging over the past two years. "I suspect the business found it quite difficult opening four stores in one year," he says. "Dee has done some good things but the market environment has been very tough."

So could these results have been the reason behind Dee's sudden departure? Booths is adamant it was an amicable arrangement, rather than an acrimonious split driven by disappointing financials. Edwin Booth, 62, took pains to describe Dee as a "friend as well as a colleague" and thanked him for his "significant and lasting impact on the business".
'Like an adopted son'
Cat Gazzoli, founder of babyfood brand Piccolo and long-time associate of Booths, believes there is genuine sentiment behind these words. Having worked with Booths for seven years - both as a supplier and CEO of campaigning group Slow Food UK - she has seen the relationship between Booth and Dee first-hand.

"If anything, it felt like Chris was part of the Booths family," she says. "To Edwin, Chris is like an adopted son. They very much had a shared, united vision on the core strategy," she says. This included the focus on its "strong" own brand, which the retailer is expanding to meet its target of doubling sales by 2021. Dee has also led the development of its growing online division, which contributed to a record-breaking Christmas for Booths last year, with sales topping £10m. So Gazzoli struggles to believe Dee was ousted from the CEO position.

Recruitment consultant Dan Plimmer draws the same conclusion. "Usually if a family business wants to flush out people, it will do so very quickly," says Plimmer, lead consultant in fmcg at Jonathan Lee Recruitment. "If Chris had only been there for five years, you would be thinking, 'What has he done?' But the fact he has been in the business for 22 years suggests he has done very well and integrated into the board and Edwin Booth's methodology."
Black book of contacts
Instead, sources believe Dee is likely to have left of his own accord. They suggest he has plans in the pipeline, even if he is unwilling to reveal them now. Starting up his own business could be one option. Prior to Booths, Dee ran his own chain of small wine shops. Gazzoli says he remains "passionate" about wine and still has a keen understanding of what it's like to be an entrepreneur. If Dee was to make such a move, his standing in the retail community would undoubtedly give him an edge. As Plimmer says, he would have "the world's biggest black book of contacts".

Meanwhile Booths has vowed it will be "business as usual". From the end of June, Edwin Booth will take on the additional duties of CEO alongside his existing chairman role. There is no sign of a dramatic change in strategy post-Dee. "We're sticking to our tried and tested formula that has served us well at Booths for 170 years," says Booth. "We sell the best quality products with enthusiasm and courtesy. This ethos, established by our founding father, is the key to operating our business with skill and dedication."

If and when the 62-year-old Booth does decide to stand back again, there are plenty of other options. Booths has a strong commercial team in the form of Nigel Murray and John Gill.

And if the company wants to keep it in the family, there is upcoming talent in the sixth generation. Henry Booth joined the company after graduating in 2012 and is now working in business development, recently cementing a supply deal in Malaysia. Emma Booth joined more recently in October as hampers and gifting co-ordinator, and is currently developing the company's first range of online gifts.