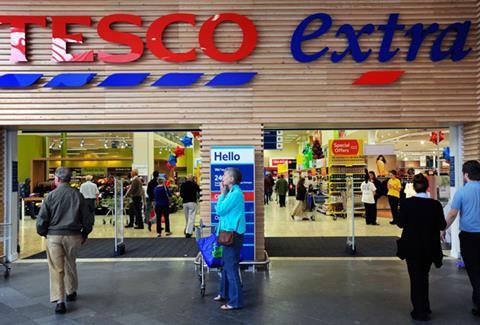 Charities have called for supermarket profits to come under greater scrutiny, accusing major food retailers of not doing enough to help tackle the cost of living crisis.
Campaign group Sustain said that with figures showing 57% of adults were in households with food insecurity, just as supermarkets announce record profits, the government and businesses needed to do more to help families cope.
It said so far this year three of the UK's top four supermarkets – Tesco, Sainsbury's and Asda – had issued preliminary profit information for 2021-22, and that once Morrisons' partial data was added it amounted to a collective profit before tax of £4.08bn.
The four supermarkets cover 66.5% of the UK market. The Co-op, with 6% of the market, has announced profits of £57m for 2021 and Waitrose, with 4.8% of the market, has announced £14.44m.
"Supermarkets are posting record profits – more than £4.08bn this year so far," said Sustain CEO Kath Dalmeny.
"This stands in shocking contrast to the 7.3 million adults in our country who have been going without food due to low incomes and the cost of living crisis.
"Food production, manufacturing and supermarkets are together the biggest industry in this country and yet we also know that there are people employed in these industries going hungry. Farmers only receive 8% of the value of their produce, producers are pressurised by supermarkets to drop their prices and not all supermarket workers receive a real living wage."
The Food Foundation yesterday claimed nearly a quarter of food sector workers were living with food insecurity.
This week, Tesco chairman John Allan called for the government to introduce a windfall tax on energy companies to help what he said was the worst food poverty crisis facing the UK in many years.
Allan told the BBC Today show Tesco customers were among those whose behaviour was showing the extent of the financial hardship families were experiencing.
He said there was an "overwhelming case" for a windfall tax on energy companies to help those such as Tesco customers who have started rationing the amount of food they buy at the supermarket.
Dalmeny said: "There have been calls for a windfall tax on energy companies, including this week from the chair of Tesco. But Tesco needs to look at its own windfall profits – £2.2bn last year alone.
"More of such profit needs to be shared fairly and accountable with farmers, producers and workers, some of whom can't afford to eat what they sell. More of that profit needs to be used to provide healthy and affordable food, with a special focus in low-income neighbourhoods."