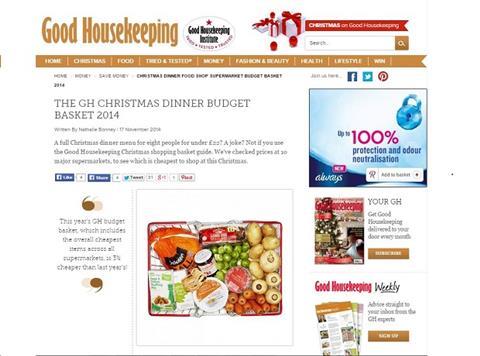 On Monday morning, Good Housekeeping revealed the price of a Christmas dinner for eight this year -– just £2.66 a head.
The catch? To hit that low price point per plate you'd have to shop at six different supermarkets. While the price sounded great, it also sounded like a lot of hassle. So with only one way to find out, The Grocer put it to the test.
First up was the local Tesco Extra. I left the office at 2.40pm. It took 11 minutes to get there. Once inside, it took 10 minutes to track down and buy the own-label parsnips (750g, 90p), the cranberry sauce (185g, 50g) and the stuffing (x2 85g, 30p).
At the checkout, the assistant spent the entire transaction nattering away to a colleague about a local man who'd been murdered – just what I needed when trying to get in the Christmas spirit! And she didn't say goodbye when I left, either.
I jumped in the car and headed for Lidl. It was less than a mile away and it was easy to park. It was now 3.08pm, and I headed straight in to pick up the 3kg Braemoor turkey (which served 4-6 rather than eight, although it was on deal at £1 off for £8.99).
Conveniently, Iceland was right next door, which I hadn't known when planning my route, so after a quick dash back to the car to put the heavy bird in the boot, I entered the store at 3.17pm. The large iced fruit cake bar wasn't stocked so I substituted it for a smaller 454g version (£2).
Next on the list was Co-op to get the spuds – a good eight mile drive away. The process was beginning to get tedious by this stage, not helped by Lingfield town centre resembling a real-life driving hazard perception test.
I thought I might as well add to the chaos, so pulled up outside the store and left the car on a double yellow line. I was in and out in four minutes, but again a substitution was made as they didn't stock Maris Pipers, the British nation's favourite potato – not very good! (According to Kantar Worldpanel, Maris Piper is the most popular variety of potatoes in GB. In the 52 weeks ending 12 October 2014, 201,000 tonnes of Maris Piper potatoes were purchased by shoppers.)
Instead, I purchased British white potatoes (1.5kg, £1) and headed for Aldi, almost four miles away. I arrived at 4.08pm.
Three Aldi items were on the Good Housekeeping list, but they didn't have the specified sizes of the carrots or sprouts, and the brandy butter hadn't even made it onto the shelves yet (it won't appear until three weeks before Christmas according to the store manager).
The thought of going all the way back to Lidl – a 10 mile drive – was too much, so I picked up a bag of 500g sprouts for 89p and a bag of 1kg carrots for 55p – both more expensive and smaller pack sizes than the original items on the list. Altogether, the visit took 10 minutes.
Finally it was onto the last pitstop. At Sainsbury's the 450g (not 454g as quoted in Good Housekeeping) Basics Christmas puddings were £1 each. They were also right at the back of the store along with the Basics mince puffs (65p).
Who has mince puffs? I was wondering if 'puffs' was a typo until I found them on the bottom shelf, after staring at this section for a while. To obtain the full 11 items on the list I asked an assistant whether they had any brandy butter and, after looking around, we found the JS 200g Brandy Butter at £1.60 (11p more than Aldi/Lidl's alternative). With a full bag I arrived home at 4.50pm after a mad shopping dash which saw me visit six supermarkets and took just over two hours.
So, with almost half the products substituted (5/11) and a total cost of £19.42 for the basket (at £2.43 per person but with smaller portions of cake, sprouts, carrots, second-choice potatoes and a turkey recommended to serve 4-6, was it worth a 20 mile drive around the area instead of just going to one of my local stores? Especially as the Christmas dinner on the list didn't even come with gravy, chocolate, wine or brandy?
No. It most definitely wasn't worth it, and I would not consider doing it again. And who has time to do a mission like this the week before Christmas? Or even worse the weekend before? And imagine trying to do it with two small children? After all that racing around I think it's safe to say it's easier just to go to one place, even if it costs a couple of pounds more (and imagine what I spent on petrol).
In an upcoming issue of The Grocer, you can find out which of the top five supermarkets will be cheapest for a Christmas dinner that covers everything you might want, with 33 items ranging from the champagne to the Rennies, with a plump turkey in between. And you can do it all in a one stop shop, too.