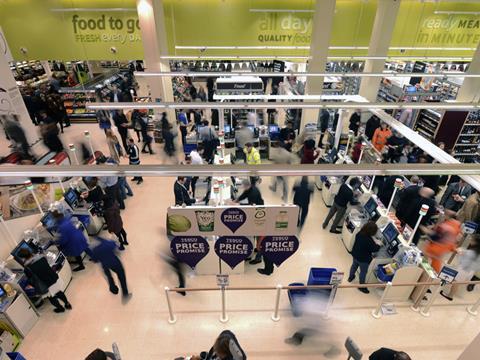 Shoppers will spend £300m more on Christmas grocery shopping than last year and seven out of 10 will use the discounters.
According to the latest forecast from the IGD, festive grocery spend will increase 1.4% to £20.3bn on the £20bn spent in 2014.
Shopper data collected in November shows consumers feeling more upbeat about their Christmas spending this year and 19% said they planned to spend more on food and drink than the previous year.
Aldi and Lidl are also set for an increase in sales, as 69% of shoppers will use the food discounters this Christmas. Forecasted sales at the discounters are set to hit £1.7bn in the five weeks from 20 November to 26 December.
"Beyond saving money, shoppers also cite the quality of products, the new products available and the opportunity to buy items unavailable anywhere else, as reasons for shopping in discount stores," said IGD chief executive Joanne Denney-Finch.
"Supermarkets will remain by far the most popular destination but discounters, specialist stores (such as butchers and off-licences) and convenience stores are also favoured by many. People are shopping around and spreading their spending across a growing number of formats."
Well over half of shoppers also said they were going to visit two or more shops on the same trip to buy their Christmas groceries and 50% intend to buy some food online or use a click & collect service.
"Online grocery will also receive another boost. Substantially more shoppers expect to do a 'big Christmas shop' online this year compared to last: 17% compared to 14%," said Denney-Finch.
"The top reasons given are to avoid crowds and to save time. We forecast online will generate £1.2bn of grocery sales this Christmas."