Everyone knew Tesco's day of reckoning would be bad, but the sheer scale of the problems afflicting the UK's biggest supermarket still shocked the market on Thursday.

Tesco shares had plummeted by 6.3% to 171.4p by Thursday lunchtime after it revealed the scale of its profits overstatement exceeded the £250m guidance and stretched back at least as far as 2012/13. The retailer also reported a 5.5% collapse in second quarter like-for-like sales and a 92% drop in first-half pre-tax profits to £112m.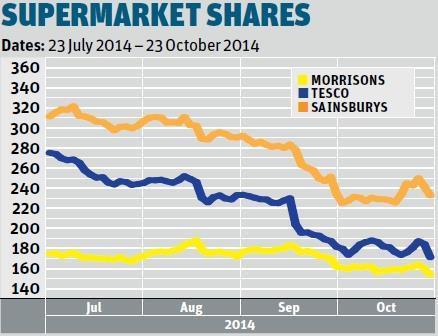 While the headline figures were grim, the City was also disappointed by the lack of strategic announcements from the new leadership team or clarity on its dividend or other restructuring plans. Tesco shares have now fallen by 53% since the start of 2014. "Tesco has had quite a few years of challenge and disappointment. However, we can never recall a period so damaging to the reputation of the company as the first half of this year," Shore Capital analysts said.

Sainsbury's and Morrisons were not helped by Kantar figures on Tuesday showing more market share losses. By Thursday lunchtime, Sainsbury's was trading 4.6% down since Monday's opening at 234.1p, while Morrisons was 4.3% down over the week to 152p.

Elsewhere, Premier Foods slumped 12.8% to 29.9p on Thursday morning after revealing further sales falls in the third quarter, though it had previously risen strongly from its Monday opening price of 28p.

A branded supplier coping better with the current retail trends is Britvic, which was up 2.7% on Thursday morning to 653p after lifting its full-year profit forecast despite a dip in fourth-quarter sales. Britvic shares are 7% up over the past 12 months despite the supermarkets' trading woes.

Meanwhile, British American tobacco fell 2.6% on Wednesday after posting a 9.6% revenue decline as currency headwinds and a slowdown of global cigarette volumes took their toll. BAT edged slightly further down (0.2%) on Thursday morning to 3,368.5p.