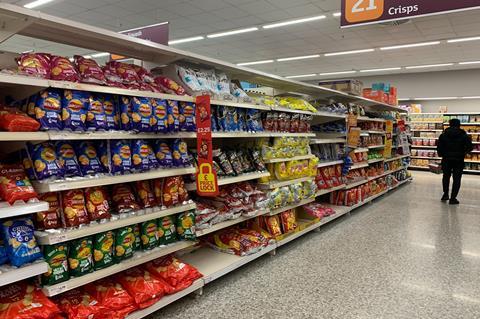 Crisp packets, as well as snack and chocolate wrappers, are to be added to the list of products able to be recycled at supermarkets, in a move billed as a big breakthrough in the war on plastic.
OPRL, the body that oversees the industry's On-Pack Recycling Label scheme, announced the move would come in on 1 January – at the same time as labelling changes for thousands of polypropylene (PP) film products, previously announced in May.
It said the change would help the the UK Plastics Pact target to ramp up all plastics packaging recycling to 70% by 2025. It follows major breakthroughs in recycling technology being trialled by the major supermarkets.
A big push to simplifying messaging and broadening the range of plastic bags and wrappers consumers can recycle at front of store has been carried out over the past year, amid widespread criticism of the postcode lottery of local recycling collections.
OPRL said that following "extensive research" it was confident enough in the sorting and reprocessing infrastructure to allow crisp packets and all metallised snack and chocolate wrappers to carry advice urging customers to take packaging back to stores after use.
Several supermarkets, including Sainsbury's and the Co-op, already collect crisp packets and similar wrapping via front of store recycling points. Many others have trialled this ahead of the expected rollout, which OPRL said made it a good time to extend the scheme.
However, the move still does not apply to packaging materials constructed of aluminium foil laminates such as petfood pouches, which it said should continue to be labelled 'Don't Recycle'.
"This move is good news in simplifying messaging for consumers and allows us to capture more of this valuable material and drive higher recycling rates," said Karen Graley, co-chair of OPRL's Technical Advisory Committee.
"It was crucial for us to establish the evidence base that the UK's sorting and recycling infrastructure can cope with these lightly coated wrappers, and that they won't contaminate recyclate streams or reduce quality, before making this move and we're grateful for the information and assurances we've been given by key infrastructure stakeholders."
Helen Bird, strategic technical manager of plastics at Wrap, added: "Ahead of plastic bags and wrappers being collected directly from people's houses, supermarket collection points are a critical stepping-stone on this journey under The UK Plastics Pacts.
"In the last year, the number of people taking bags and wrappers to supermarkets has nearly doubled and we expect this to grow significantly.
"We're a nation of crisp lovers and it's great to see the on-pack label informing people that the packs can be recycled at supermarkets importantly, they are not just collected, but go on to be recycled. And we continue to encourage the supermarkets to tell their customers what happens to the materials once they are dropped off."