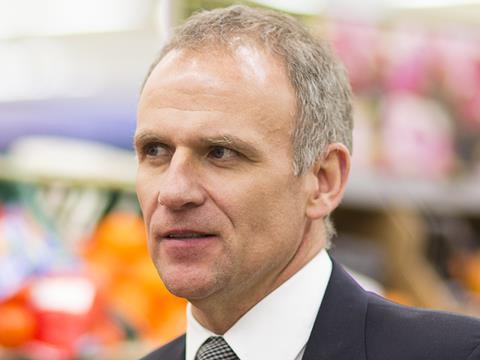 Tesco has reached an agreement with the Serious Fraud Office to avoid prosecution for the 2014 accounting scandal - in which its profits were overstated by £312m - in return for a £129m fine.

With a further £85m to be paid out to shareholders who bought Tesco shares from 29 August 2014 to 19 September 2014 - under a compensation scheme agreement announced on the same day (Tuesday) with the UK Financial Conduct Authority - plus further costs, the total charge against Tesco's P&L will be £235m, it added.

But after apologising to shareholders for the "hugely regrettable" profits misstatement, CEO Dave Lewis tressed that Tesco was now a "fundamentally different organisation".

"We said at the outset, when we first discovered these issues in September 2014, that we would do everything we could to get to the bottom of what had happened," said Lewis.

"And on behalf of everyone associated with Tesco, I want to apologise to all those who have been affected. Our business was operating in a very challenging situation back in 2014. The mis-statement of profit forecasts was hugely regrettable, but we have faced into the situation openly and transparently. Today we are paying the penalty due and the compensation necessary. But I also want to emphasise that these issues are historic, and over the last two-and-a-half years, we have undertaken a comprehensive programme of change right through our business," he added.

Although there was still more to do, "since 2014, we've made extensive changes across our leadership, structures, and to our financial controls inside the business. Underpinning all this, we have changed the way Tesco buys and sells, to focus on the cost price of products wherever possible rather than commercial income. This has helped to deliver a fundamentally different approach to our supplier partnerships."

Lewis said Tesco had fully co-operated throughout the SFO investigation, which began in October 2014.

Under the terms of that agreement, Tesco Stores Limited will not be prosecuted but will pay a financial penalty of £129m.

It has also agreed a finding of market abuse with the FCA in relation to the trading statement of 29 August 2014.

Lewis added: "Let me be clear: there is no suggestion from the regulator that the board of Tesco were aware of the inaccuracy in the August 2014 trading statement. But Tesco and the FCA have agreed to establish a compensation scheme for people who were net purchasers of shares and bonds between 29 August 2014 and 19 September 2014 inclusive."

Each net purchaser of shares will be entitled to compensation of 24.5p per share purchased, plus interest.

The total cost of the compensation to Tesco will be in the region of £85m, excluding interest.

Lewis said his key task now was to ensure Tesco carried on with the changes to its organisation.

"What happened is a huge source of regret for all of us at Tesco, but we are a different business now," he said.

"The actions of colleagues over the last two-and-a-half years are evident to all, and our key stakeholders are feeding back that they see and feel our progress.

"Our job now is to keep the momentum."

The SFO settlement does not affect the trial of the former Tesco executives caught up in the accounting scandal, due in September.