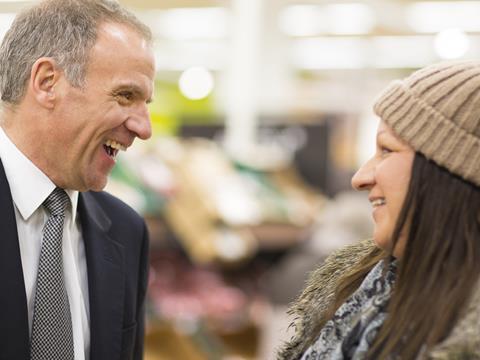 Tesco has got its sense of humour back, according to CEO Dave Lewis, who has claimed having a light-hearted relationship with its customers is as important as restoring more competitive prices.
Speaking to Bruno Monteyne, senior analyst at Bernstein, Lewis said Tesco's success in recapturing its "personality" was a key ingredient in his turnaround strategy. Referring to the retailer's new brand advertising campaign, he claimed Tesco was returning to the glory years of its marketing.
His comments came as a new survey claimed Tesco's TV ad – which shows Gavin & Stacey star Ruth Jones playing mum Jo alongside comedian Ben Miller – to plug its new Brand Guarantee offer, had a been a resounding hit so far with viewers.
The survey of 700 consumers, by OnePulse, showed that 66% agreed the new ad was "really funny", with the majority of viewers (76%) also recognising the advert's stars from their previous TV appearances, giving it a powerful star appeal.
Lewis said Tesco's personality was one of the three key factors in his plan, on top of improving service and revitalising the Every Little Helps mantra.
"The thing that Tesco has always had historically is the sense of humour that its customers have understood," said Lewis. "If you want an example of that, go back to Dudley Moore, Go back to Dotty, go back to some of those campaigns.
"If you think about it, it's the only retail brand that's ever really managed to have a conversation in a light-hearted way but with quite a serious message with the UK public."
Tesco brand manager at OnePulse, Meagan Healey, said Lewis' plans to bring back the personality had started well. "Tesco's revamp of their discount structure and their new ad campaigns was a hit with consumers: with 32% saying they'll shop Tesco more with the Brand Guarantee and the majority agreeing that the advert is funny, it appears Tesco's new direction is off to a great start".
In the Bernstein interview, Lewis also claimed that under its previous management Tesco had become "easy pickings" for rivals such as Aldi and Lidl.
"I think the interesting thing, that actually surprised a number of people, is what the response of customers has been where Tesco goes back to providing: great range, availability, service and increasing the competitive price," he said.
"So the impact we've had on the marketplace is that a year ago, we were the easy source of growth for other competitors. Let's be honest about that. And now, that's not happening, so we stem that flow and actually you see us picking up customers from a number of our competitors."
Lewis also claimed that he did not think Amazon Fresh, the service believed to be readying for launch in the UK after Amazon's grocery trials in London and Birmingham, would be a full-blown online food rival to Tesco.
"I can only respond to what I see at the moment," he said. "And maybe that's just a trial, so we'll see, but it's a very limited range at the moment.
"Obviously, a significant move and a formidable business, so I understand why people will look at the trial that's happening," he said.
"Philosophically, I like competition. It makes you better. And so, the idea that there's a challenge to what it is that we do, it doesn't scare me. It just sort of spurs me on."