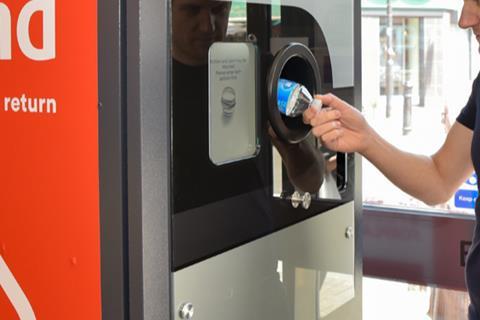 Defra has ruled out calls for a scaled-back launch of a UK deposit return scheme (DRS), despite pressure from supermarkets and national audit chiefs.
Retail leaders have called on ministers to go back to the drawing board and abandon a full-scale UK rollout in favour of more limited pilots, amid claims DRS will cost a whopping £1.8bn to run.
A report by the National Audit Office (NAO) in July also called for Defra to produce more evidence that DRS would be cost-effective by running smaller-scale pilots before committing to a UK rollout, saying it was "good practice".
Yesterday the House of Commons' public accounts committee grilled Defra chiefs over the handling of its Waste & Resources Strategy, and asked if it planned to run pilots to test the effectiveness of DRS, following the collapse of the intended first rollout in Scotland.
However, Defra permanent secretary Tamara Finkelstein said the idea had been dismissed as not practical, and said Defra believed it was better to rely on evidence from other countries where DRS already operated.
"Doing a pilot here is really hard because it doesn't really work unless you do it end to end," she said.
"The best information we actually have is from the schemes that have been running in other countries. That's going to be absolutely crucial."
Norway, Demark and soon the Republic of Ireland are among around 50 countries with DRS schemes.
"We [also] have quite a lot of information from different small trials," Finkelstein added.
"Orkney did a trial and there have been trials by supermarket groups of parts of the system."
Defra had been planning to use Scotland's deposit return scheme as an opportunity to learn lessons, but with the launch delayed until at least October 2025, which is when Defra currently states it plans to launch its scheme, that chance has been lost.
The NAO report said the delay was a chance to test the cost-effectiveness of the scheme "particularly where the scale of the planned benefits is uncertain", adding that "a pilot scheme would be beneficial to protect value for money".
The Grocer has already revealed that industry insiders – representing both the retail and supplier side of discussions with Defra – are adamant a scheme administrator could not be set up until at least 2026. The collapse of Circularity Scotland Ltd (CSL), which was due to run Scotland's shelved scheme, left debts of £90m and led to huge concerns over the possibility of a repeat failure across the UK.
However, Finkelstein maintained officials had been making progress on a compromise scheme which all sides could agree on, with The Grocer understanding the next steps could be announced during the autumn.
Finkelstein said Defra believed it had momentum from industry to back the launch of a scheme administrator despite the downfall of CSL.
She also cast doubt on whether the UK would follow the previous plans in Scotland with a 20p deposit for drinks containers, suggesting the figure could be higher.
"We're not at the point where the Scottish scheme had got to whereby it set a 20p per bottle deposit, but we need to take that back in as we look for an interoperable scheme."
The Grocer understands industry sources are hopeful a solution can be found to allow DRS to go ahead, despite the stand made by supermarkets.
However huge questions remain, including whether the scheme will include glass, which was in Scotland's plans before they were scuppered but had previously been ruled out by Westminster.
"Frankly Defra seems to have been trying to pretend the issue with glass doesn't exist," said one source. "It's very much the elephant in the room."
Meanwhile Defra said yesterday its much-delayed guidance on consistent local authority collections, which has also been pinpointed as one of the reasons its waste and resources strategy failed to hit its targets, will be published "imminently".