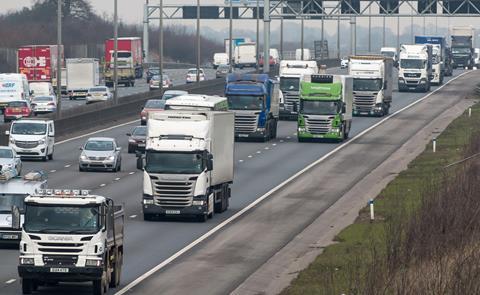 Supermarkets have been urged to avoid a 'survival of the fittest Christmas' this year to prevent further stresses piling on to an already creaking logistics network.
The UK's ongoing driver shortage has created stiff competition among supermarkets for limited haulage availability, with each retailer intent on minimising their own disruption.
However, as demand builds in the run-up to Christmas, they have been urged to show greater collaboration to ease the burden on supply chains.
"The biggest choice every one of the major supermarkets has got this week, is: 'are we going to have a survival of the fittest Christmas or are we going to all work together and try and get through Christmas?'" said Shane Brennan, CEO of the Cold Chain Federation.
"The problem with crisis is that everyone fights to protect their own. So what you're finding is businesses fighting to protect the certainty of their own deliveries and that pushes against collaboration and co-ordination of efficiencies."
Ninety-six per cent of UK logistics businesses are now reporting problems recruiting HGV drivers, according to a Logistics UK survey released this week, with more than 13% having "severe to very severe" problems recruiting warehouse staff.
Haulage companies have grown increasingly collaborative in recent months, working together to maximise respective geographical strengths and efficiency. Many are still prioritising their biggest and most important customers, however, meaning possible backloads are often declined in to minimise the chances of delays.
The result is a poor utilisation of distribution capacity that sees around 31% of lorries on the road completely empty, according to statistics from the Department for Transport, while those that contain goods are on average only 60% full.
"If the HGV network was more effectively utilised there would be more than enough distribution capacity to go around," said Jack Fleming, CEO of Chill Chain.
"But the people that would enable that change are running around with their hair on fire trying to just apply more pressure to their haulier to get them to deliver stock. Rather than thinking that these are symptoms, this is the problem, this is the solution."
Tesco revealed this week it has increased its use of rail freight by almost 40% to help keep its shelves stocked during the driver crisis. CEO Ken Murphy said it aimed to deliver around 90,000 containers of goods a year to its warehouses via trains by the end of 2021, up from about 65,000 at present. Murphy said Tesco was one of only three retailers that used significant volumes of rail freight.