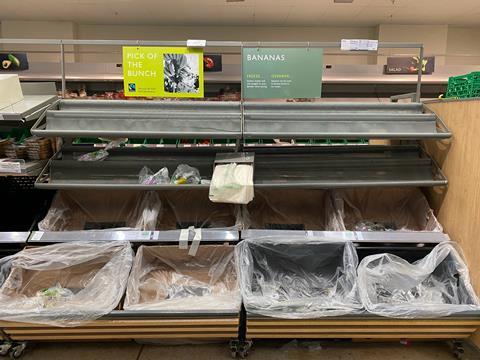 Supermarkets shortages have doubled in the past month following a brief respite in early August.
Out-of-stock levels climbed steadily through August to hit 4% by early September, having earlier fallen to 1.9%.
More than half of Brits have experienced in-store shortages over the past few weeks, according to a YouGov survey last week, a symptom of labour shortages across the food chain. A recent report commissioned by the NFU estimated there are more than 500,000 vacancies across food and drink businesses, an average vacancy rate of 13%.
Petcare is consistently one of the worst affected categories, with out-of-stocks currently running at 5.8% across stores. "Petcare is a supply problem," said Jonathan Kittow, director at Simply Supply Chain. "There are a number of pet suppliers that are still struggling to keep up with demand."
Other product categories have seen more cyclical stock levels, rising and falling from week-to-week. frozen foods, for example, saw just 0.7% SKUs out of stock in mid-August. However, this had surged to 5.2% by the end of the month.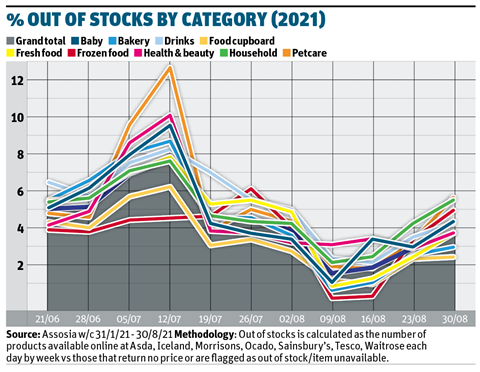 "Supermarkets are playing whack-a-mole," said Kieran Smith, CEO of Driver Require. "They solve one problem, and boom, it pops up somewhere else. You solve that, and boom, it pops up somewhere else."
HGV driver shortages are a particular problem, with the government now looking to fast-track HGV driver tests to speed up inflow into the industry.
During meetings this week between government officials, hauliers and suppliers, a food industry source said it had "seemed to finally hit home" in Whitehall that the driver shortage was worsening.
Supermarkets are still turning to higher wages and incentives in an attempt to poach additional drivers from other companies. Waitrose is now offering lorry drivers £53,780 a year – more than some of its head office executives.
Richard Burnett, CEO of the Road Haulage Association, warned that the supermarkets' incentive schemes were exacerbating the situation. "It's robbing Peter to pay Paul," he said. "We're just seeing labour circulate around the market without any dramatic increase in the numbers coming in. The situation is getting worse."
One major haulier confirmed it had been forced to introduce delivery limits for supermarkets after many of its drivers left in pursuit of higher pay and incentive bonuses. "As fast as we are nicking them from our competitors, they are going out the back door," they said.