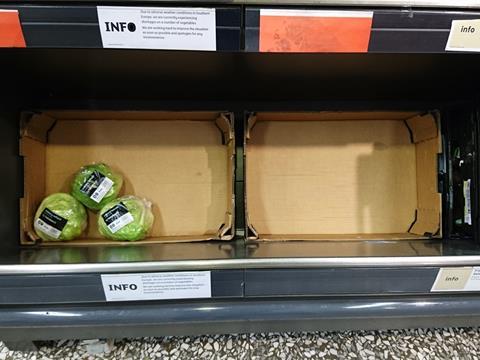 UK retailers have potentially lost out on fresh produce sales worth as much as £8m amid ongoing shortages, according to IRI data.

The UK's top nine supermarkets saw year-on-year sales of courgettes fall by more than £2m last month, representing a 39% reduction. Sales of spinach fell by £2m, while sales of spinach bagged with other salad ingredients in the major supermarkets plummeted by £3.6m [IRI Retail Advantage, January 2017].

Record rain levels in the Spanish region of Murcia have hit supplies of crops including spinach, courgettes, peppers, tomatoes and salad leaves since December, leading to shortages in UK supermarkets and in the wholesale channel. Growers have warned that some crops would not become widely available until as late as May.

"There have been production problems in Southern Europe and it's starting to impact sales quite dramatically at the leading grocery multiples," said IRI head of strategic insight for retail Martin Wood.

Tesco and Morrisons imposed rationing on iceberg lettuces last week in a bid to halt bulk buying as small business owners switched away from wholesalers to retailers due to tight supplies and rising prices.
Asda this week restricted sales of lettuce, broccoli, aubergines, tender heart cabbage and loose courgette lines to six per person so customers were still "able to get hold of their favourite veg", said a spokeswoman. "We've also brought in some iceberg lettuce from the US to boost availability for our customers, which will temporarily sit alongside the existing lines we have from our Spanish growers."

Air cargo operator IAG Cargo told The Grocer it had seen a surge in demand for fresh produce cargo due to the supply crisis, with 184% more fresh produce flying from the West Coast of the US to the UK in the last week of January compared with the same week in 2016.

"Typically lettuces are originating from northern Mexico and Arizona and are travelling through Los Angeles or Seattle airports to London Heathrow," said Joe LeBeau, vice president of North America for IAG Cargo. "Early indications are that these higher than usual volumes will be sustained over the short term."