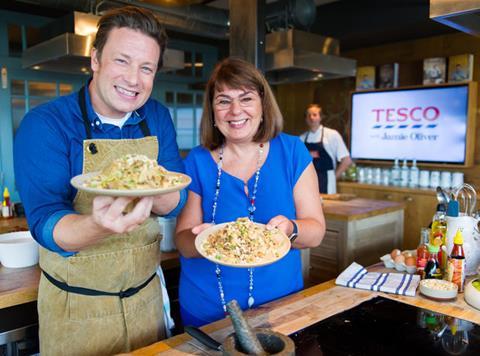 Some say one is past his sell-by date and the other seems to be back from the grave: two men whose names begin with J look set to have a big say in Tesco's future as the retailer approaches what could be the most spectacular of milestones.
While Monday (10 September) was all about the great unveiling of Jamie Oliver fronting Tesco's healthy eating campaign, now the industry is abuzz again with rumours of the launch of its new discount chain to take the fight to the German challengers Aldi and Lidl.
A media invite to Chatteris in Cambridgeshire, home of the mothballed site thought to be the first in a rollout of Jack's stores, has once again got everyone guessing at Tesco's plans. The invite promises Dave Lewis will have "exciting news" to share.
Certainly journalists will be disappointed if it turns out to be a tour of the local Neolithic remains or the surrounding Fenlands. But the fact Lewis has neither "confirmed nor denied" (and we often know what that means) reports that first surfaced in February suggests this is indeed the first incarnation of a new store named after Tesco's legendary founder.
But what will the scale of Tesco's ambition be after Lewis makes his second big unveil in as many weeks? And to what extent will the new chain take a leaf out of Aldi and Lidl's book and become a copycat?
Previous reports have suggested Tesco could launch up to 60 stores under the name Jack's, and in July research by CACI for The Grocer shone a spotlight on 49 existing Tesco stores with the most potential to be converted to Jack's.
Of these 49 stores, 11 were in Scotland, whilst Yorkshire and the Humber and the north west of England had a further seven each. Cities such as Birmingham, Glasgow, Leeds, Liverpool and London were among those most likely to be in the pipeline, all of them featuring the "financially stretched", "cost-conscious pensioners" or those facing "urban adversity", the research said.
Today Shore Capital analyst Clive Black suggested Tesco would, after the Chatteris launch, look to expand the new chain by converting anywhere between 50 and 100 stores, starting with what he called its "problem Metro stores".
Bernstein's senior analyst Bruno Monteyne reckons the new format will not be a copy – instead more of a crossover between a cash & carry and a discounter, with a huge influence from Tesco's new Booker empire.
Black's top estimate of 100 stores could be particularly significant given that next year Tesco will celebrate its centenary.
Could an armoury of 100 Jack's stores, named after its founder no less, be a fitting way to celebrate Tesco's century? Certainly some will hope it fares better than an armoury of Jamie's.
But even with 100 stores, how is it going to make more than a small dent in the discounters' sales?
Lewis has done a brilliant job of getting Tesco back on the front foot and seems to be relishing in having the industry hooked on what his next move will be. But for a really fitting 100th year tribute, he may have to pull a bit more magic out of the hat than has been guessed at so far.