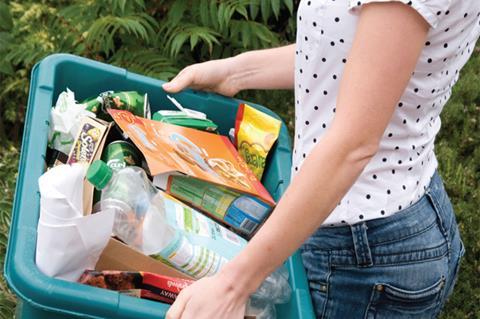 Supermarkets and suppliers are in talks about the launch of a new 're-use' label for food and non-food packaging that experts hope could be a "game-changer" in the war on plastic.
The Grocer has learnt that not-for-profit recycling body The On-Pack Recycling Label (OPRL) is in advanced discussions with its members, which include over 500 retailers, suppliers and packaging groups, over plans for the new label to be rolled out as early as the first half of next year.
OPRL, in conjunction with experts at Sheffield University, has been researching the wording of the label, which would feature on tens of thousands of everyday products. Wording is expected to be to the effect of 're-use then recycle'.
OPRL boss Professor Margaret Bates said it would be the first time a message telling consumers they should re-use packaging rather than recycle or dispose of it had rolled out at scale.
"We are talking to the UK Plastics Pact and our members and are very excited about it," said Bates.
"We have spoken to major companies who have said that if we get this off the ground they would put it on all their products straight away.
"It could be a really major initiative in the move towards a circular economy. The industry is really driving change and looking at how it can influence consumer behaviour."
In January, The Grocer revealed supermarkets and suppliers had agreed to make major changes to on-pack labelling in a bid to end consumer confusion over what types of plastic can be recycled.
The shake-up, also led by OPRL, involved most of the major supermarkets and hundreds of suppliers, and will see them switch to a simplified system that tells consumers to either 'recycle' or 'don't recycle' products, ending a previous third message which had advised consumers to check local recycling facilities.
However, Bates said retailers and suppliers were increasingly looking at how products could be reused rather than recycled.
The labelling is set to be rolled out on products such as refillable bottles using sprays or pumps but also across new formats being developed for food packaging.