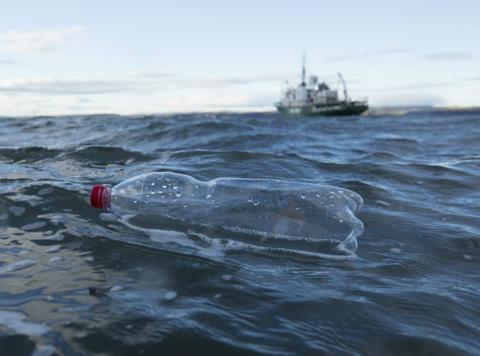 UK supermarkets could eliminate 50% of plastic packaging within five years by focusing efforts on 54 key categories, according to a Greenpeace report.
A 35% reduction by 2025 could be achieved by focusing on just 13 of the worst-offending categories, the report claims.
The 13 categories are bottled water, fizzy drinks, milk, still drinks and fruit juices, household cleaning products, detergents and softeners, sports and energy drinks, rice, vegetables and salads, fruit, fruit juice, dilutable drinks and bath and shower products.
The report, published ahead of a new episode of the BBC's War on Plastic due to air tonight, suggests remedies across the 13 categories. On water bottles, it suggests retailers "just stop selling them", citing how Ocado did so this April to free up delivery capacity for essentials in lockdown.
Across other categories it suggests refill stations, including 'dispensing fountains' for fizzy drinks. For milk, it suggests refill vending machines and a return to doorstep deliveries.
On detergents and fabric softeners, the report recommends removing water from products to make concentrate, as well as developing refill systems.
"For the first time, data specialists have mapped out where the greatest potential lies for drastically reducing the volume of plastic packaging going through our supermarket tills," said Greenpeace UK plastics campaign Nina Schrank.
"Greenpeace has selected these 13 categories in particular because they generally score highly in all three metrics – weight, sales units and the number of components."
Shrank added: "Changing the packaging for these 13 product categories could remove 45 billion pieces of supermarket plastic, and more than 300,000 tonnes of plastic – the equivalent weight of more than 7,000 supermarket delivery lorries, that if lined up nose-to-tail could lead from Birmingham to Manchester."
War on Plastic presenter Hugh Fearnley-Whittingstall called on shoppers to boycott products and retailers not doing enough to hit the 50% reduction target set by Greenpeace.
"Greenpeace has worked out how supermarkets could halve their plastic packaging in just five years," he said. "That's a brilliant target, and there's no doubt the supermarkets could hit it if they really wanted to. We need to make them want to – by supporting every plastic reduction initiative and avoiding throwaway plastic where possible. Leave over-packaged plastic-covered produce on the shelves, buy unpackaged produce whenever you see it, and switch to the shops and supermarkets who are making real changes that help you to shop with less plastic.
"We need to get the supermarkets competing to reduce plastic – by letting them know our continued custom depends on it."
Stuart Lendrum, head of packaging, quality and food safety at Iceland, which aims to eliminate plastic packaging from own label by the end of 2023, said: "This new report from Greenpeace paints a stark picture of the scale of plastic packaging as an issue, the opportunities for change and the need for the supermarket sector to act unequivocally, whilst acknowledging the challenges will help kickstart the opportunity for an industry and governmental rethink.
"The retail and packaging sectors continually demonstrate the ability to innovate and change. Supply chains are often shared – we all need to do better on cutting plastic packaging and that starts with accepting and acknowledging the scale of the challenge."