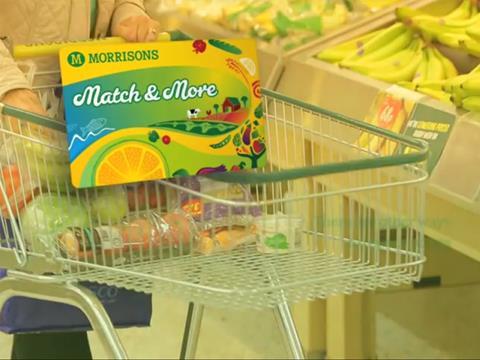 If the supermarkets have indeed been 'asleep at the wheel' when it comes to the discounters, they're fast waking up.
The big four have all made significant investments in price over the past year - the latest being Morrisons' commitment yesterday to price match the discounters by launching its Match & More loyalty scheme.
Under the scheme, if customers can buy branded or own-label goods cheaper at Aldi, Lidl or the other supermarkets, shoppers will get the difference paid back in points onto a loyalty card.
It's a bold move, yet the initiative has been met with some scepticism – Morrisons shares were trading at 163.6p just before its 1pm announcement yesterday, but had dropped 4.5% to 156.3p by late morning today.
Here are some of the challenges Morrisons will have to overcome for the scheme to succeed:
Battling the discounters on price is a lop-sided fight – It is simply not feasible for a traditional supermarket to permanently offer goods at the same price as Aldi and Lidl. The discounters' business model is predicated on offering a smaller range of overwhelmingly own-label goods in stores that prioritise efficiency over customer service. Supermarkets that offer the range, counters and staffing levels customers have come to expect from them – as well as the staffing pressures of serving online customers – cannot operate at the same margins. The current profits of the discounters are such that they have room to drive price even lower if they feel their advantage has been at all eroded.
The effort to price match creates unwanted complexity – Because Morrisons can't simply reset prices to discounter levels, it has come up with a brand match mechanic which offers points to loyalty card holders that are then transferred to a voucher when £5 (or 5,000 points) have been accumulated. Although this system doesn't require customers to jump through too many hoops, part of the appeal of the discounters has been their simple 'what you see is what you get' pricing model. Will a complex price-matching system win back customers attracted to the discounters by simple low prices?
How will Morrisons pay for it? – The supermarket said the scheme would be fully funded from the £300m it has already committed to price action. It appears that to make the economics work, Morrisons is banking on a relatively small proportion of customers buying their items at discounter prices - hence the brand-match scheme rather than competing on every day price. And if only a small proportion of customers take advantage, can the scheme really be the game-changer Dalton Philips needs?
A loyalty card for a market without loyalty – Sainsbury's CEO Mike Coupe talked of the increasingly "promiscuous" shopper this week, noting customers shop around in the four or five alternatives they have on their doorstep. Match & More relies on customers building up points – presumably through frequent return visits – at a time when these brand-monogamous shoppers are a dying breed.
The concept of points-earning loyalty cards is dated – Clubcard was launched almost 20 years ago and Nectar was not far behind. Loyalty card usage has been decreasing in recent years and certainly hasn't helped Tesco maintain its share of the current grocery market. The perks-based myWaitrose loyalty scheme is a somewhat different proposition, but generally speaking those grocers that are succeeding in the current market do not have loyalty cards – it might even be that Tesco could move away from the concept when Dave Lewis finishes his strategy review.
Shore Capital's Clive Black yesterday concluded: "Sadly for us, we harbour a considerable degree of scepticism on its launch. For choice, we would rather that Morrisons channelled its available resources into a more democratic process that looks after all of its customers at the same time, whilst progressively eroding the LADs price differential and at the same time more definitively extolling the virtues that the discounters cannot compete with: range, counters, service points and services."
All this is not to say that Match & More won't be a success – but on its own it seems unlikely to be the silver bullet Morrisons has been waiting for.
Where it might have more impact is eating into perception that Asda is the supermarket price benchmark and that the discounters are necessarily better value.
In this sense the PR boost could be more material than any immediate boost in sales. If Morrisons gets traction as the supermarket taking the fight to the discounters – and it is planning a major Ant and Dec ad blitz to ensure that happens – it might just erode Asda's reputation as the best value of the rest. It should not be forgotten that despite the growing threat of the discounters, Asda is still holding its market share; its price proposition and general reputation for low prices is a core component of that current relative success.
If Morrisons can have any impact on that perception, Match & More might be a turning point after all.