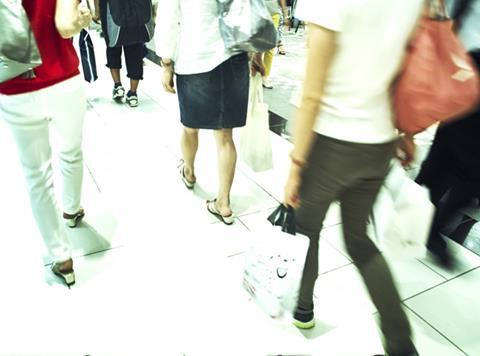 The late falling of Easter gave retail sales a boost in April, as expected, but food struggled to reap the benefits.
Like-for-like sales across all categories climbed 4.2% in April, while total sales grew 5.7%, according to the BRC-KPMG Retail Sales Monitor, published today.
But for the three months to 30 April, like-for-like food sales were down 2%, and total food sales were flat, up 0.1%.
Demand in furniture & flooring and children's clothes spurred growth in non-food sales in the three-month period, with like-for-likes up 2.2% and total sales up 3.3%.
"Strong April sales figures may have benefitted from Easter falling late this year but it is clear that the effects of the wider economic recovery are feeding through to the retail sector, as evidenced by the 3.3% rise in non-food sales in the last quarter," said KPMG's head of retail David McCorquodale.
"The food sector remained competitive with grocers slashing prices to attract customers. The last three months' figures, which eliminate the distortion of Easter's timing, reveal that total food sales have been flat at best. Price wars may be good news for the consumers but mean that grocers have to urgently re-think business models to maintain margins."
Adjusting for food price inflation, as measured by the BRC-Nielsen Shop Price Index, like-for-like food sales in the three months to April were down by 0.7%, the BRC said.
"Although shoppers continue to grow more optimistic, food retailing still isn't reaping the benefit," added IGD chief executive Joanne Denney-Finch. "This is partly because people are eating out more and also because shoppers are catching up on non-food purchases such as cars, clothes and furniture.
"However, some parts of food retail are enjoying strong growth including discounting, convenience and online. Ninety-five percent of food shoppers now regularly spread their spend across more than one channel and a third use five or more channels (hypermarket, supermarket, convenience, food discounter, fixed-price discounter, online, frozen food store, specialist store or farm shop)."