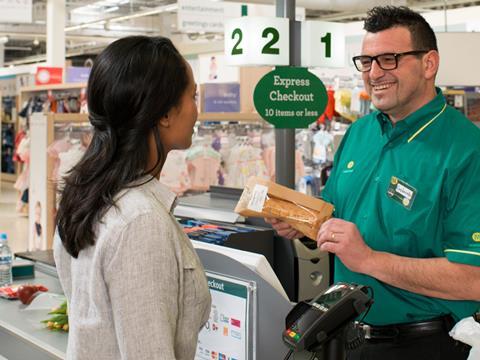 Shares in both Morrisons (MRW) and Sainsbury's (SBRY) have fallen by over 4.5% today on poorer than expected performance in the latest grocery market share figures from Kantar Worldpanel and Nielsen.
Morrisons had dropped 4.5% by close of trading on Tuesday back to 211.4p, while Sainsbury's was also down 4.5% down to 233.6p.
Both Kantar Worldpanel and Nielsen found the big four's sales all increased in the most recent 12-week period. Sainsbury's grew sales by 2% year on year according to Kantar and by 1.9% according to Nielsen, while Morrisons' sales were up by 1.4% and 1.6% respectively.
However, this growth was accompanied by grocery inflation of 3.6% according to Kantar – suggesting a significant slowdown in volume sales at the two grocers.
Tesco (TSCO), which edged back 0.1% to 205.4p today, performed better – with sales growth of 2.5% according to Kantar and 3.4% according to Nielsen.
The difference between the listed supermarkets was more marked on the most recent four-week data.
Kantar Worldpanel found Tesco's sales rose 2.9% in the four weeks to 3 December, compared to just 0.9% for both Sainsbury's and Asda and 0.5% for Morrisons.
Bernstein analyst Bruno Monteyne noted that Sainsbury's 12-week till roll growth had slowed 60bps since the prior period, adding: "Sainsbury's has previously benefited from general merchandise growth boosting overall till roll but this has slowed in the most recent period… reflective of the overall slowdown in general merchandise growth."
Morrisons' till roll growth also fell 60bps in the period, while it market share losses worsened "likely from lower disposable incomes," according to Monteyne.
HSBC analyst Dave McCarthy added: "In cash terms, it appears that Sainsbury is only growing by a third of the rate of Tesco. Data also show that Sainsbury (along with Morrisons and ASDA) is seeing a decline in spend per visit, while Tesco is increasing its spend per visit."
Notably, the growth rates of the discounters picked up in the period.
On a 12-week basis, growth at Aldi improved to 15.1% from 13.1% in last month's data and its four-week growth picked up to 17% from 15.9%.
Lidl's 12-week growth fell back to 14.5% compared to 15.1% last month, but its four-week growth rose to 17.5% from 13.7% in the prior period and 12.1% in the month before that.
Kantar found the discounters' collective market share rose from 10.8% in the same period in 2016 to a new high of 12% in the most recent 12-week period, with Aldi now accounting for 6.9% of the market.
Broker Jefferies commented: "Overall industry volume growth looks mixed as we approach the critical Xmas period. A concurrent pick-up in gains by discounters suggests UK shoppers will be very value sensitive in the upcoming weeks."