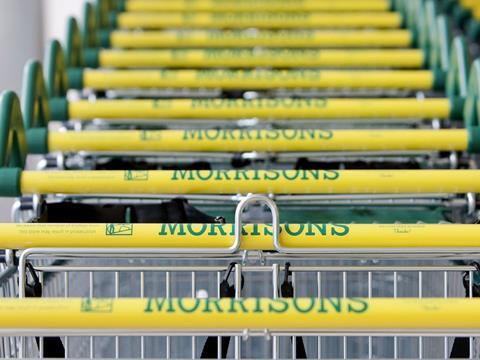 If life felt better for the supermarkets on Wednesday after M&S's solid food sales performance, Morrisons' third-quarter trading update on Thursday brought them firmly back to earth.

Despite extremely weak annual comparisons, given Morrisons' like-for-likes fell 6.3% in the third quarter of 2014, its like-for-likes for the 13 weeks to 1 November fell by another 2.6% - a poorer performance than its 2.4% like-for-like fall in the second quarter. CEO David Potts insisted "the business is moving at pace on the long journey towards improving the shopping trip", but the market was less convinced. Morrisons had risen 3.9% on Wednesday to 177.5p ahead of what was expected to be an update showing improved sales trends, but the shares were back down 3.9% to 170.5p by Thursday lunchtime.

Retail Vision's John Ibbotson didn't mince his words: "To claim you are making good progress on the back of these numbers is bordering on the delusional," he said. "David Potts' turnaround plan isn't working." However, Cantor's Mike Dennis said Potts "has the right strategy and should continue to focus on rebuilding the core supermarket sales volumes… Management now need to focus on the communication side of their value messages to broaden their customer base."

By way of contrast, M&S posted its 24th consecutive quarter of like-for-like food growth (0.2% in the second quarter) to grow its overall first-half sales 1.4% to £5bn. The M&S narrative remains dominated by its yo-yoing general merchandise performance (which topped expectations this time) and the overall results provided "increasing evidence that the turnaround strategy is starting to deliver", said HSBC's Paul Rossington. There were some jitters around a 25 basis point drop in food profitability, but these were eased by a 6.3% increase in its interim dividend which helped the shares up 2.8% to 353p by close.

Elsewhere, Fever-Tree surged 17.7% to hit record highs of 510p on Wednesday after announcing it expected full-year performance to be ahead of expectations.