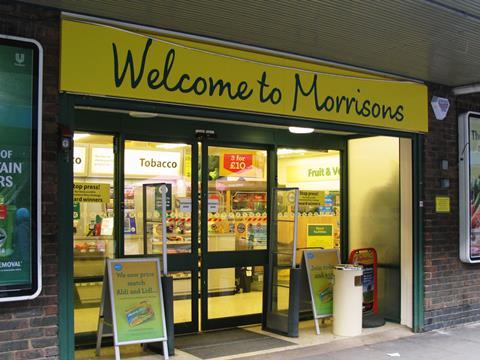 Morrisons has reported a 2.9% decline in first quarter like-for-like sales as it names former Asda exec Darren Blackhurst as its new commercial director.
The supermarket said total sales in the 13 weeks to 3 May fell 1.1%, excluding fuel. Net debt also fell by around £150m to £2.2bn.
New chief executive David Potts said that, as expected, it closed more stores than it opened during the quarter, which led to a reduction in selling space of over 50,000 sq ft.
It also saw a 0.1% reduction in like-for-like items per basket and a 3.2% decline in the like-for-like number of transactions, while the number of items on promotion fell 4.3%. The number of skus also reduced from 21,950 in the fourth quarter, to 21,650. This compares against 23,600 in the first quarter of 2014.
The retailer added it expected underlying pre-tax profit to be higher in the second half of the year than the first half. One-off costs associated with simplifying its head office workforce would be about £30m to £40m.
"My initial impressions from my first seven weeks are of a business eager to listen to customers and improve," said Potts.
"I have been very pleased by the desire and support of colleagues, and by the genuine warmth and affection for Morrisons shared by both colleagues and customers. This is a business with many attributes, some unique. Our task is to use those advantages to improve the shopping trip for customers and create value," Potts added.
Meanwhile, Blackhurst has been appointed group commercial director, replacing Casper Meijer who left last month. Blackhurst started his career at Tesco in 1988 and went on to hold a number of roles, including commercial director for Tesco Lotus in 2002.
He joined Asda as executive trading director for food in 2006 and two years later was appointed chief merchandising officer. He then took the helm at Matalan in 2011 before moving on to the role of commercial director at B&Q last year.
Morrisons said Blackhurst would be on the executive committee with responsibility for all trading functions. Andrew Pleasance will continue as interim trading director until Blackhurst arrives.
Potts added: "We are very pleased that Darren is joining us. He has a proven track record of providing millions of customers with a strong value-focused offer in fresh food, grocery, clothing and most recently DIY. I am confident he will play a leading role in making Morrisons increasingly competitive."