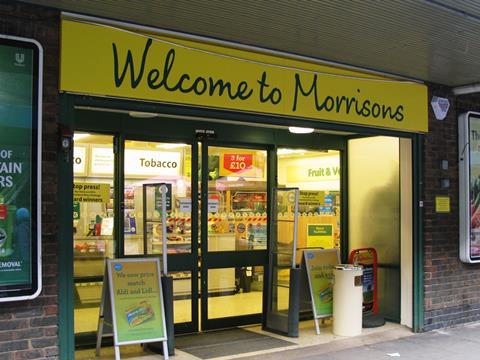 The current woes affecting the big four supermarkets are often put down to the rise of the discounters. But in the case of Morrisons being forced to close 10 stores, new research commissioned by The Grocer reveals it was most likely pressure from Asda and Tesco that made those stores unprofitable.
Morrisons last week said despite exploring a lot of options it "could not see a route to profitability for these stores."

The stores in question are all Morrisons' small supermarket formats, with a combined size of 80,000 sq ft and less than £50m in annual sales. In total, 409 staff will be affected and Morrisons said it would look to accommodate as many as possible in other parts of the business.

Morrisons would not confirm the exact location of the stores, eight of which were bought from Netto in recent years, with the other two being former Co-operative Group stores. But according to a memo seen by The Grocer, the stores earmarked for closure are Accrington, Bransholme (Hull), Crawley Broadfield Barton, Cramlington, Newton-le-Willows, Ravensthorpe, Rugby, Telford, Wallasey and West Bromwich.

Based on these locations, The Grocer commissioned location consultants CACI to detail all grocery stores above 3,000 sq ft with a five-mile radius of each of the sites. The results show competition is fierce in many of the areas.

Clearly, the discounters are a factor. Aldi has 29 stores with a five-mile radius, and Lidl and 27. But it's Asda and Tesco that are responsible for the most pressure; half of the 10 areas have Tesco or Asda as the dominant retail player. In total, Asda operates 38 stores within a five-mile radius of the affected stores, while Tesco has 34.

Morrisons may even have cannibalised its own sales, with 26 Morrisons supermarkets within easy striking distance of the failing stores. Sainsbury's is less of an influence, with 15 nearby stores in total, while there is no overlap at all with Waitrose.

"We do talk a lot about the discounters, but it is interesting to see that particularly Asda and Tesco have a really strong presence in these areas, and it would be fair to say they will have the most to gain," said CACI senior consultant Matt Soffair.

"However, Morrisons does have at least one other store in all of these locations, so it won't be losing out completely."

Morrisons refused to provide details of when the stores would close. The retailer last week entered into a consultation with staff affected by the closures. This is set to last for a minimum of 45 days.

Meanwhile, local residents have begun petitions to stop the closures. Campaigners have accrued more than 3,000 signatures against the shutting of the Broadfield Barton store in Crawley, and more than 1,500 have signed a petition in Cramlington.