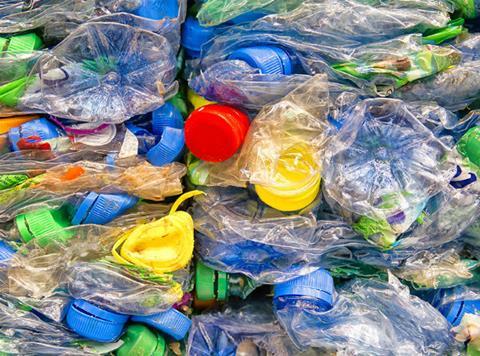 The food industry faces missing its targets on plastic reduction unless it seriously "ups the pace", according to a major report by Wrap today.
The update on progress on the UK Plastics Pact, which comes as the government consults on plans for a further crackdown on single-use plastic, found signatories had reduced problematic or unnecessary single-use plastic items by 46%. They also reduced the amount of packaging on supermarket shelves by 10% in the period 2018-2020, saving 140,000 tonnes of carbon emissions.
However, the report, which also contains key milestones in 2021, revealed progress had been slowed by the coronavirus pandemic and also the cost of reformulating packaging such as polystyrene, levels of which had fallen by just 3% in the period covered.
It said there needed to be "much more action" by retailers in front of store collection points and also by their industry recycle plants. Levels of plastic packaging recyclable in 2021 were still at just 65%, rising to 70% when including reusable plastic packaging.
The pact aims to eliminate problematic plastic by 2025 and ensure 100% of plastic packaging can be reused or composted.
It found the most significant reduction had been achieved in polyvinyl chloride (PVC) packaging, which had fallen by more than 80% since 2018.
But it added that progress had been slower on polystyrene widely used in multipack yoghurts and white goods.
"Business members report that the Covid-19 pandemic has had an impact on making the necessary changes, with a key barrier to change being cost," said the report.
"Despite this, 20% of members have already successfully removed polystyrene, a further 20% will have removed it by the end of 2021, and most others will remove it in 2022."
The pact also calls for signatories to reach an average of 30% of recycled content in packaging by 2025, with the report showing the figure was 18%.
Wrap said it was concerned a shortfall in supply of high-quality recycled plastic would impede businesses in achieving the target. It called for longer-term contracts between suppliers of recycled plastic and manufacturers to support the case for investment in the recycling sector.
Wrap also called for the industry to increase the range of plastic products that it eliminates, with a review of those covered by the pact due to be published early next year.
"The truth is, though, that the overall picture remains a mixed bag," said Wrap CEO Marcus Gover. "We still have a long way to go, and an ever-shorter timeframe to get there.
"I remain concerned that if we don't seriously up the pace on tackling plastic bags and wrapping – reducing it where possible, recycling it where needed – then it threatens to derail our ambition. We need to see prominent collection points become the norm for shoppers. And investors need to open their wallets to fund the infrastructure which would make some of the exciting innovation taking place a reality."
However, resources and waste minister Jo Churchill said the pact had produced a "sea change" and businesses had been "rising to the challenge".
"There is more we must do – and that is why we are consulting on banning a range of further single-use plastics and, through our exciting new Environment Act, we will make manufacturers more responsible for their packaging," she said.
"With strong action from government and businesses, we can drastically reduce waste, make better use of our resources and protect our natural environment."