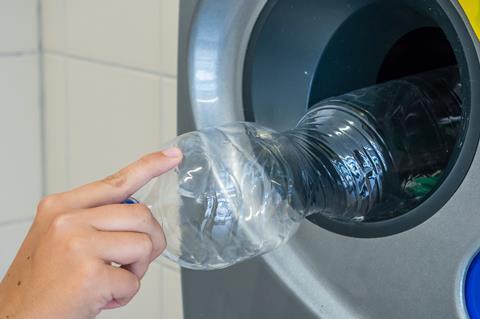 A raft of major retailers and suppliers are planning to launch the biggest trial yet of a so-called digital deposit return scheme system (DDRS), with the group telling the government it could save hundreds of millions in infrastructure costs.
Aldi, Co-op, Lidl and Ocado, alongside suppliers such as Diageo and Danone, are backing the trial, which will look to prove codes on packaging on cans and bottles can be used with smartphone apps as an "on the go" and kerbside alternative to the planned network of reverse vending machines (RVMs) in stores.
So far only small-scale trials of DDRS have been conducted, in Wales and Northern Ireland, but the Digital DRS Industry Working Group (IWG), also including the BRC, British Glass and the British Plastics Federation, is planning to run a trial across a major town or city, with Wales favourite to be the location.
It comes with the cost of RVMs forecast to be upwards of £1bn in the first year of a DRS system, due to arrive in England by the end of 2024 at the earliest under latest government plans.
In a response to Defra's consulation on the government plans, the group said digital DRS "has the potential to reduce the burden upon the consumer to have to queue up at a reverse vending station".
"Changing retail activity, a mixture of increased use of home deliveries, combined with queuing fatigue as a result of Covid-19 restrictions, may make the DDRS option increasingly attractive, but we stress this needs to be tested with research and pilot schemes."
However, The Grocer has learnt other powerful players in the industry are worried calls for DDRS could cause more delays and confusion for the rollout of DRS, which has already been stalled in Scotland and England by the pandemic.
"Two systems is already confusing," said one source, "Wales making it three, that's just a joke."