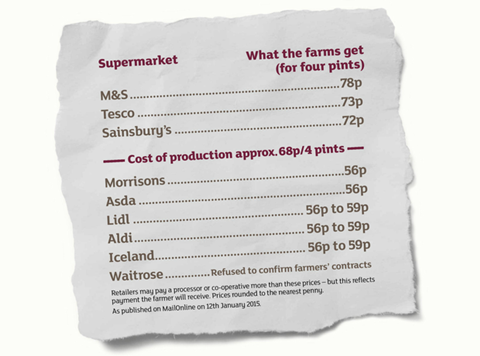 Sainsbury's has launched a national newspaper advertising campaign to flag up its support for British dairy farmers.
The campaign, which ran across four national newspapers today (21 January), outlined how much Sainsbury's paid its farmers for four pints of milk under the cost of production model it launched in 2012, stating that farmers "who produce our milk should also make a living".
"If you buy that, maybe you should buy our milk," the advert stated, following hot on the heels of a call by MPs on the environment, Food, and Rural Affairs Committee this week for the dairy supply chain to be included in the remit of the Groceries Code Adjudicator.
The advert claimed that Sainsbury's paid farmer members of its Dairy Development Group (SDDG) 72p for four pints of milk (the equivalent of 31.72 pence per litre). This trailed both Tesco and M&S, who were quoted as paying 73p and 78p respectively for four pints of milk, but was higher than the average cost of production of 68p for four pints of milk (the equivalent of 29.96ppl), while Morrisons, Asda, Lidl, Aldi, and Iceland were all quoted as paying farmers less than this amount.
"In difficult times such as those we face now, our farmers will receive a higher price than they would in the open market," said the retailer's food commercial director Paul Mills-Hicks. "In other years they may receive a lower price, but the price they receive is always above their cost to produce," he added, with SDDG members benefitting from a "longer-term relationship based on greater certainty for all, enabling both parties to invest with confidence in the future of the industry".
In light of continued criticism of the supermarket sector and its perceived role in the current dairy crisis, Mills-Hicks added that the "price we charge customers is not a function of the price we pay our farmers". He claimed Sainsbury's had to remain competitive for its customers, "but when we drop the price of milk to match competitors the cost of doing so is not passed onto our farmers".
Mills-Hicks added that the "challenge for us and the dairy industry is to ensure that customers understand that they can support the industry if they choose to do so", and in a reference to critics in the dairy industry, said "if they treat all retailers alike, commentators make that choice more difficult".
The advertisement was welcomed by the National Farmers Union, who challenged "all supermarkets to commit to giving British farmers a fair price for the milk that is used in cheese, butter and cream as well as bottled milk".
The Sainsbury's advert followed the publication of a blog and YouTube video by Tesco last week, where it highlighted the support offered to members of the Tesco Sustainable Dairy Group (TSDG) and the benefits of its cost of production model.
James Stephen, dairy farmer and TSDG committee chairman, claimed the group offered farmers "stability" in a "seriously difficult time" and called for "support from the retail industry to help us plan for the future".