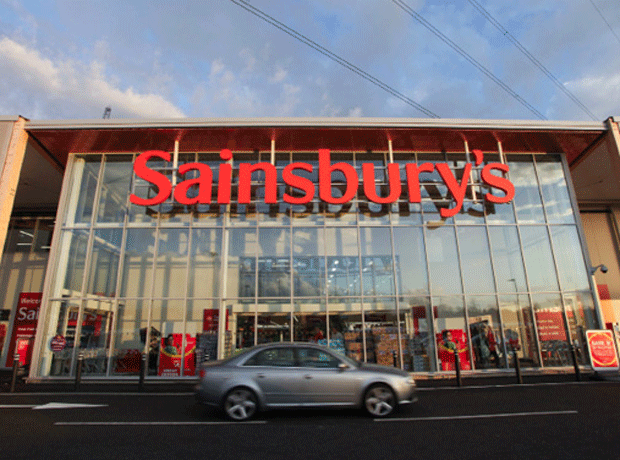 Sainsbury's recent good run has come to a definitive stop with a 1.7% fall in sales, according to the latest figures from Kantar Worldpanel.
Sainsbury's share of the market for the 12 weeks to 30 March stood at 16.5%, down from 16.9% a year ago, Kantar said today. By comparison, the supermarket chalked up 2.2% sales growth and held a 17% share in Kantar's report last month.
All of the big four ceded share in the quarter, as the market faced tough comparisons with last year, when Easter Sunday fell on 31 March. Of the big retailers, Asda weathered the quarter best, with sales dipping just 0.5% and its share hovering at 17.4%.
Morrisons saw the steepest slide of the big four, with sales down 3.8% and share falling to 11.1%. Tesco sales slipped by 3% as it recorded a 28.6% share.
Meanwhile the discounters continued to seize ground, with Aldi recording its highest-ever growth figure of 35.3%. It achieved record market share of 4.6% - not far behind Waitrose's 5% slice. The upmarket grocer continued its strong sales run, chalking up 4.5% growth.
Meanwhile, Lidl grew its sales 17.2% to hold a 3.4% share.
There was also good news for The Co-operative Group, which continued to hold share steady at 6.1%, with sales down 1%.
Total grocery market growth stood at a sluggish 0.6%. Accounting for the distortion of Easter falling later this year, "corrected" market growth stood at 1.5% - still significantly down on the 2.2% growth recorded in last month's report.
"Amid a challenging market backdrop, individual retailer growth might be expected to be restricted," said Edward Garner, director at Kantar Worldpanel.
"All of the 'big four' supermarkets have faced declining sales over the past 12 weeks, which has been accentuated by the late falling of Easter. Nevertheless, they have also seen worrying share declines, with the most resilient performance coming from Asda this period."
Elsewhere, frozen food discounter Farm Foods exceeded even Aldi's rate of growth by recording a whopping 37.1% sales increase, lifting it to a 0.8% share of the market.
"Never has the old maxim 'be cheaper or better but whatever you do don't get stuck in the middle' applied quite so clearly to this market," said Julie Carlyle, head of retail at EY.
"For the year ahead we expect a continued improvement in consumer confidence, leading to higher spending, however, the sustainability of recovery for retailers is ensuring they know their customer and pick the right products and channel to suit their needs. Finding the right model to do this, retaining flexibility and deciding where to prioritise spending or invest, is becoming increasingly difficult as the pace of change in this sector accelerates."