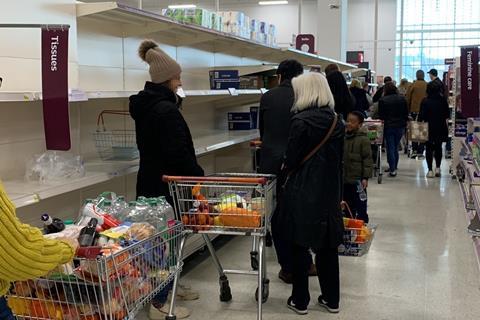 Brits spent nearly £60m on stockpiling in the first week of coronavirus panic, The Grocer can reveal.
Consumers spent an extra £57.3m on items such as medicines, handwash and canned food in the first week of March as panic took hold over the spread of the coronavirus.
Spend across the 10 most popular stockpiling categories reached £124m in the week ending 7 March 2020, up from £66.6m the same week the year before, latest data from Nielsen Scantrack shows.
That was before the public was advised to avoid unnecessary travel and contact with others, which has prompted a fresh wave of panic buying.
Medicines experienced the highest percentage uplift over the first week of March. Sales of children's medicines rose 124% to £2.5m, while adult analgesics grew 102.5% to £3.6m.
Meanwhile, toilet tissue accounted for the highest absolute increase. An extra £17.6m worth of toilet tissue went through the tills in the first week of March compared to the year before.
In terms of food, ambient goods saw the heftiest spike in sales. Shoppers bought an additional £7.2m worth of canned pasta, canned meat and ambient soup. UHT milk alone saw a 90.7% spike in sales to £3.1m.
At the weekend, the supermarkets joined forces to call on customers to avoid panic buying and only purchase what they need. However, there have been widespread reports of empty shelves and queues outside of supermarkets, and Tesco, Sainsbury's and Asda have all started to limit sales of food items.