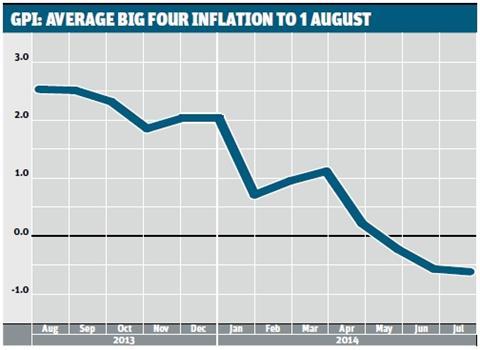 Inflation across the big four supermarkets has fallen again to reach a new annual low - although deflation is showing signs of bottoming out.

For the fourth consecutive month, prices are lower than they were a year ago. Average annual inflation as measured by The Grocer Price Index (GPI) has dropped a fraction over the past month to -0.66% as of 1 August - down from -0.61% on 1 July and -0.26 on 1 May. It is the lowest level of inflation recorded this year.

Deflation is most significant in the fruit & veg category, where prices are now 4.60% lower than they were a year ago. The mults have focused their price-cutting efforts on fruit & veg in recent months, but the price war is not the only factor fuelling deflation. Wholesale prices of several key fruit & veg lines, such as carrots, potatoes and apples, are down by double-digit margins year on year.

The other categories showing deflation are alcohol, bakery, confectionery, deli and household. Of those, deflation is particularly significant in the booze aisle, where prices are 1.52% lower than a year ago.

Now that more than a year has passed since the horsemeat scandal, inflation in meat, fish and poultry has also fallen considerably, from between 6% and 7% in the second half of last year to just 0.12%. Horsegate sent prices up because shoppers were looking for more UK fare, but demand has since eased off.

Of the big four retailers, Asda has slashed prices the most year on year. Its prices are now 2.02% lower than they were a year ago. The Walmart-owned supermarket cut prices 1.34% month on month following a similar-sized cut last month. It has made particularly deep cuts to alcohol prices, which are now 3.93% down year on year.

Morrisons and Sainsbury's are also in deflationary territory - with the former at -0.74% and the latter at -0.62%. Despite its pledge to invest £200m in lower prices this year, Tesco is the only supermarket to be showing inflation - albeit a very modest 0.34%. This is largely because, unlike its rivals, it has not cut booze prices year on year.

Over the past two months, Waitrose has also cut its prices significantly. Inflation at the upmarket supermarket is now running at -1.44%, having plunged from 0.55% on 1 June. It has made significant cuts across chilled, dairy, fruit & veg and meat, fish and poultry.

Waitrose MD Mark Price highlighted its investment in price last week when he warned about first-half profits.

"We're giving myWaitrose members a fantastic deal on butter and milk without cutting the price we pay to our dedicated group of British dairy farmers," he said.