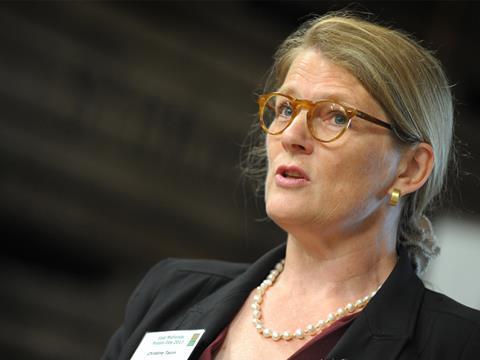 Groceries Code Adjudicator Christine Tacon has invoked her powers to demand suppliers give evidence about alleged breaches of the Groceries Supply Code of Practice (GSCOP) by Tesco.
She has taken the dramatic step after failing to get the voluntary responses she wanted in her investigation into the UK's largest retailer, The Grocer can exclusively reveal.
It is understood Tacon has written to a string of suppliers, from several different categories, demanding they give an official account of the alleged practices by the retailer, which sparked the launch of her investigation in February.
Lawyers have warned that suppliers could face criminal action if they fail to respond.
"Suppliers are in a catch-22 situation. It's heads you lose, tails you lose"
Sources also suggest the development could mean a significant delay to her investigation, which had been due to report next month.
The move comes after Tacon repeatedly expressed frustration at the lack of companies coming forward amid a continuing "climate of fear".
"The approach has been quite direct, although she emphasises that she is investigating Tesco rather than the suppliers," said one source, adding that he thought upwards of 10 suppliers had been involved. "Interestingly these are suppliers from completely different sectors. The sort of things she is querying are emails from Tesco that appear to have been making demands for unilateral payments for promotion as part of the year-end process."
A spokesman for the Adjudicator said: "We can't comment on the ongoing investigation or the mechanics of it." She would neither "confirm or deny" the move.
However, legal sources said the consequences for suppliers of the Adjudicator ramping up her action could be extreme.
Under Schedule 2 of GSCOP, the Adjudicator may for the purposes of an investigation, require a person to provide documents or to provide other information, and it is an offence to refuse to give evidence or provide false evidence.
"It is a criminal offence to fail to comply with the Adjudicator's request," said one lawyer. "The request has to be set out in a particular way that is not capable of being open-ended. As a result this could result in a prosecution.
"This is subject to the defence of demonstrating that there was a reasonable excuse for failing to comply. As there has been no litigation on this, it hasn't been tested whether failure to comply for reasons of the trading relationship is a reasonable excuse. If the supplier does genuinely fear for the relationship, then this could arguably be a reasonable excuse, though ultimately the court would have to determine this, so it could be a risky strategy."
Tacon's investigation was sparked by evidence handed to her by Tesco following the original Deloitte probe into the £263m black hole in its accounts, which was called by incoming Tesco CEO Dave Lewis. He later told the Grocer he was "disappointed" by Tacon's decision to investigate "based on information we had given".
"My guess is that she is wanting to grill them on absolutely every aspect of the report from Deloitte," said another source.
When she launched her probe, Tacon said she had "a reasonable suspicion" that the retailer had breached GSCOP rules, with the evidence understood to relate to large sums deducted from suppliers' accounts by Tesco for areas such as promotions, better placement of products and late deliveries.
Tacon had warned she would be prepared to force suppliers to come forward if they were not prepared to voluntarily provide her with details of events.
Supplier concerns
The Tesco investigation has sparked major concerns among suppliers about the protection of their anonymity, despite promises from Tacon to protect their confidentiality.
"This is unchartered territory and it's very hard to see how in practice Tacon can protect their identity if she uses their evidence," said the source. "If a pivotal part of her investigation is from evidence from certain suppliers and, for example, that evidence was challenged by Tesco, how could the process not show where that evidence comes from?"
"It will be very interesting to see what Christine Tacon is able to do if suppliers refuse to give evidence"
However, it is understood that several suppliers have agreed to Tacon's demand and have been "cautiously co-operating".
Yet the investigation has ended up posing as many questions for suppliers as for Tesco itself.
"I sense that there is a mood among many suppliers of better the devil you know when it comes to Tesco," said a source close to the situation. "I think many of them would rather live with Tesco the way it is, especially under its new regime, than have a whole heap of regulatory intervention come down on the industry."
"Suppliers are in a catch-22 situation. It's heads you lose, tails you lose," added another source.
"Under Dave Lewis and Project Reset there have been huge changes at Tesco and I don't see that any supplier would want to come forward during the middle of that. If they haven't come forward in the past five years, why would they now?," said another industry insider.
"It will be very interesting to see what Christine Tacon is able to do if suppliers refuse to give evidence. I can't see how she could fine them considering she can't even fine Tesco. And what would that look like anyway, taking action against suppliers? What would that do to the Adjudicator's credibility?"
However, industry experts agree that the result of the Tesco investigation - and Tacon's ability to gather evidence - will have a huge bearing on the future credibility of the Adjudicator's role, especially as Tacon's alleged lack of teeth in the investigation has already been called into question.
In June a YouGov poll conducted on behalf of Tacon found a fifth of suppliers would not raise an issue with the Adjudicator, with 68% of those saying it was because of the threat of retribution, a figure virtually unchanged from a similar survey the year before.