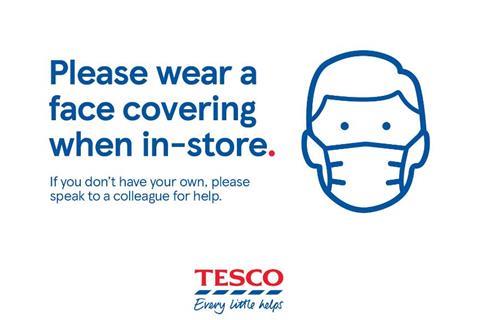 Tesco and Asda have become the latest supermarkets to say they will ban shoppers not wearing masks, as retailers step up their moves to halt the spread of coronavirus.
The UK's biggest retailer Tesco said it was acting to protect staff and customers and appealed to shoppers to stick to the rules.
As well as enforcing the wearing of masks it is also urging customers to shop alone unless they are with children or are a carer.
"Since the start of the pandemic, we have focused on ensuring everyone can get the food they need in a safe environment," said a Tesco spokeswoman.
"To protect our customers and colleagues, we won't let anyone into our stores who is not wearing a face covering, unless they are exempt in line with government guidance.
"We are also asking our customers to shop alone, unless they're a carer or with children. To support our colleagues, we will have additional security in stores to help manage this."
Read more:
Shortly afterwards Asda announced it would ban customers without masks unless they had medical exemptions.
"We have strongly encouraged customers to wear face coverings in our stores since legislation on wearing a mask in retail spaces was introduced in July," said an Asda spokesman.
"In September we introduced 1,000 Covid safety marshals in our stores to work alongside our security colleagues monitoring face coverings, offering free coverings to customers who have forgotten theirs and encouraging adherence to social distancing guidelines.
"We are grateful to our colleagues for their hard work in incredibly difficult circumstances and we implore customers to treat them with respect and comply with the mandatory requirement to wear a face covering unless they have a medical exemption."
If a customer has forgotten their face covering, we will continue to offer them one free of charge – but should a customer refuse to wear a covering without a valid medical reason and be in any way challenging to our colleagues about doing so, our security colleagues will refuse their entry.''
The moves come after Sainsbury's yesterday said it was voluntarily cutting numbers of customers in store by up to 35%, and was putting trained security guards on its doors to challenge customers without masks and to prevent customers shopping in groups.
Morrisons yesterday became the first supermarket to announce it would ban customers without masks from entering stores.
However, the BRC has appealed for the police to help stores enforce new rules, warning that staff are encountering an increasing wave of violence since the new lockdown started.