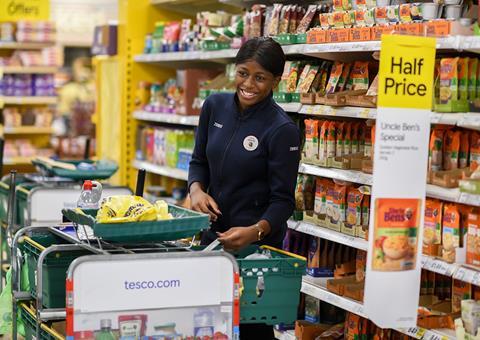 Tesco (TSCO) grew sales at a faster rate than the German discounters in April, while convenience sales continue to boom.
The monthly market share figures from Kantar today revealed UK supermarkets saw take-home grocery sales growth of 9.1% during the 12 weeks ending 19 April 2020.
Grocery sales were £524m higher in the past four weeks than they were in April 2019, but households made a record low 14 trips to the supermarket during that time, resulting in year-on-year grocery growth of just 5.5% compared with the 20.6% recorded in March.
On a retailer by retailer basis, the most recent four-week data shows a decidedly mixed picture.
Market leader Tesco grew sales by 4.6%, which was a faster rate of sales growth than Lidl (+4.5%) and Aldi, which actually saw sales go into reverse during the month, by 1.1%.
However, the country's second-largest grocer, Asda, saw its sales drop by 4.2% – a sharp reverse from the 14.6% growth it experienced in the previous four weeks.
Sainsbury's (SBRY) grew four-week sales by 3%, while Morrisons (MRW) saw a 2.8% drop in sales.
Perhaps most notably, Co-op increased its rate of sales growth in April compared with March. It saw growth of an extraordinary 33.5% in the most recent four-week data, compared with 23.3% in the previous four weeks.
Iceland also showed strong growth of 15%, while the convenience sector continued to benefit from the lockdown, with 'other grocers' growing sales by a massive 77.1% in April compared with 45% in March.
Bernstein analyst Bruno Monteyne cautioned about the volatility in the four-week data, exacerbated by the greatly reduced sales of food to go items for the big retailers.
He summarised: "The step down from March indicates that the stockpiling phase is largely over, and we are beginning to enter the channel shift phase, as calories move from out-of-home to at-home. We would expect this elevated demand to continue for a little while longer, before lockdown ends and pantries get de-stocked.
"While we don't think that Tesco's outperformance to discounters this period will be sustained in the near future given the space growth gap, it potentially shows the resilience of Tesco's competitive offering in these testing times."
Shore Capital's Clive Black commented: "Social distancing makes for the re-emergence of the trolley shop, helping superstores whilst, somewhat paradoxically, local stores boom too, notably the Co-op.
"Whilst the smaller stores benefit from local access, the superstores are coming into their own through their large car parks, checkout banks and capacity to still handle a relatively large number of people.
However, he cautioned that while Tesco and Sainsbury's were gaining from increased food sales, such superstore operators "face drags from higher operating costs, lower sales densities, materially reduced fuel sales, weaker non-food demand and financial services".