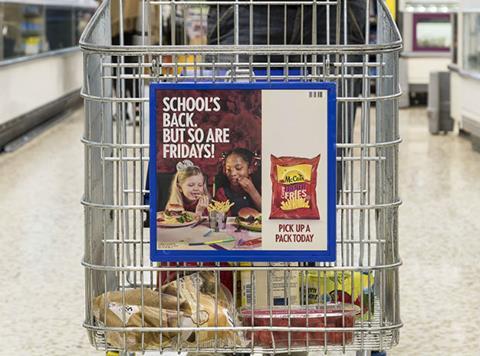 Trolley posters are generating an average of 15.2% sales uplift for advertised SKUs - despite shoppers claiming they never notice them, new research has found.

Brands using trolley posters in three top retailers also posted a rise of 13.7% in incremental sales four weeks after their campaigns, research from IRI and shopper media agency Capture found.

Trolley posters played a key factor in driving sales across ambient and fresh, and were found to be one of the most effective ways of reaching shoppers in-store, the research suggested.

The study was part of a wider analysis of 160 campaigns across the top six grocers. It looked at shopper marketing activity ranging from traditional PoS to new channels such as geo-targeted mobile marketing.

The study also found that PoS triggered an 18% uplift in sales across all groceries, and ATM advertising helped boost sales by as much as 20.8% for the advertised SKUs.

By contrast, in-store brand sampling was popular but found to be short-lived in its effects, and showed no real positive return on investment, with high costs for a relatively low reach.

IRI shopper analyst Paul Goodwin said: "This type of robust evaluation can help to prove or dispel myths surrounding shopper media channels and allow brands and agencies to plan campaigns more effectively and with confidence."

IRI uses EPoS data to compare stores using trolley posters against those without them. Criteria used includes the benchmark sales of featured SKUs, brand, category and assortment. It also takes seasonality and promotions into consideration.