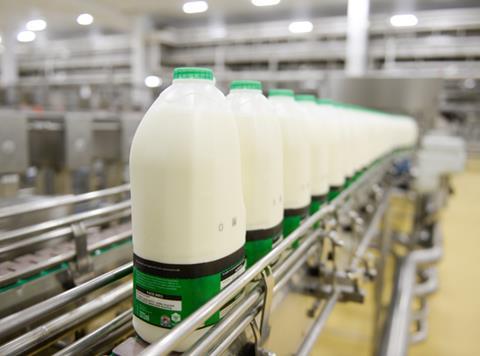 Waitrose and Nisa have joined The Co-op and Sainsbury's in lowering milk prices in reaction to Tesco's cuts on Monday.
At the John Lewis Partnership's full-year results presentation today, Waitrose MD Mark Price revealed it would reduce the price for four pints of standard own-label milk from £1.39 to £1 – in line with the new Tesco price.
However, only myWaitrose cardholders will benefit from the lower price. According to Waitrose, 68% of store sales are now made to myWaitrose cardholders. Other customers will continue to pay the original price.
Waitrose is also cutting the price of six pints of milk, from £1.99 to £1.48 - again for myWaitrose cardholders.
"Waitrose has a strong balance sheet so we can afford to follow the market"

Mark Price, Waitrose
Price said the funding for the price cut on four and six pints would come entirely from Waitrose and the move would not affect the price farmers are paid. Waitrose own-label milk is supplied by a dedicated group of farmers who supply their milk exclusively to the supermarket.
"Waitrose has a strong balance sheet so we can afford to follow the market," he said.
"We already match Tesco on branded groceries and we will continue investing back in price."
Meanwhile, Nisa announced today it would introduce a two-for-£2 deal on two-litre bottles of its Heritage fresh milk from Monday (10 March) to help convenience stores compete with the mults' new milk prices.
The multiples sell four pints (2.27 litres) for £1, so Nisa's offer on its two-litre bottles is not an exact match for their prices.
Nisa milk price
Nisa said the big supermarkets' latest milk price cuts had created "a demand for convenience operators to match the multiples on the price of milk". Trading director John Sharpe added: "This is not a short-term promotion. The plan is to run this deal long term, allowing our members to compete head on with the multiples and discounters and lead the convenience sector on price, while still maintaining a healthy margin for their business."
Unlike major supermarkets such as Tesco and Sainsbury's, Nisa does not operate a dedicated dairy farmer pool that pays farmers a premium price that takes into account the cost of production.
However, a Nisa spokesman said farmers need not be concerned that the new multibuy deal would put pressure on farmgate prices. "This will not affect the farmgate price to dairy farmers," he said. "Nisa is reacting to the activity of the multiples and discounters to ensure its retailers remain competitive on this major category."
He added Nisa's milk supplier – Arla – was "a fully-owned farmer co-operative, and the farmer owners have full visibility of pricing".
Yesterday, Sainsbury's matched Tesco's new milk prices on both four and six pints of own-label milk and The Co-op cut the price of one and two pints of milk from 50p to 45p and 89p to 85p.
The Co-op said it had decided to keep the price of four pints of milk the same. The Co-op's head of retail Steve Murrells said he believed Tesco's price drop would result in "significant waste" because people would drink three pints and throw away the fourth.