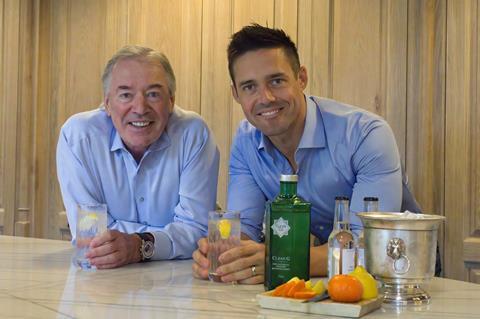 Non-alcoholic spirits startup CleanCo is entering the US market in the hope of becoming "one of the world's largest" non-alcoholic spirits brands.
Its founder, the former Made in Chelsea star Spencer Matthews, has partnered with newly launched US drinks company Demeter & Co to "build a global brand at speed".
Demeter & Co is led by Jim Clerkin, former president and CEO for Moët Hennessy and Jim Beam in North America, and Jeff Menashe, founder and CEO of Demeter Advisory Group, an investment bank for the adult beverage industry.
CleanCo will be the first brand in the Demeter & Co portfolio.
The US launch would set the brand up to achieve sales of more than 50,000 nine-litre cases across the UK and US in 2021, it said. It would tap the "growing interest in health and wellness" among consumers and "empower a new category of cocktail lovers in the US who wish to moderate without compromise", it added.
"The no/low alcohol industry is embarking on a major revolution driven by a large and growing consumer audience," said Matthews.
"In the US, our research found that one in five premium spirits drinkers sought a way to moderate while still enjoying the cocktails they love."
Menashe said the launch would push "new boundaries" and make a "positive impact on culture".
The launch will be accompanied by a digital-first marketing campaign and a sales strategy that has an equal focus on wholesale and direct to consumer.
These will be led by CleanCo global chief brand officer Lana Buchanan, former VP of Beyond Beer at Anheuser Busch, and Demeter & Co head of sales Rudy Costello, who is the former global CEO of Stoli Group.
In January, CleanCo raised £7m to fund its expansion, taking the total investment secured by the company to £9.1m since it launched in 2019.
Existing and new investors took part in the round, including Ursula Burns, board member of Uber and former Diageo executive, and Stonebridge, a digital-first consumer brand investment firm set up by DTC entrepreneur James Cox.
In August, it jumped on the pink drinks bandwagon, launching a pink version of its core non-alcoholic gin alternative, called Clean G Pink.
William Reed – the publisher of The Grocer – runs a trade show exclusively for the low & non-alcoholic drinks industry. For more information visit low2nobev.com