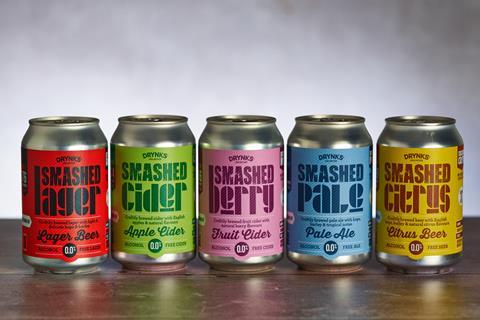 Alcohol-free drinks business Drynks Unlimited has netted a £1m investment from Welsh gold dealer Bill Roberts.
The seven-figure investment came exclusively from Roberts, who is founder and chairman of Welsh jewellery business Clogau Gold, to support Drynks Unlimited in scaling up production and accelerating growth.
The money will be spent on installing a "bigger and better" cool vacuum distillation machine at Robinsons Brewery, as well as on marketing activity in the run-up to Christmas and Dry January.
Founder and MD Richard Clark said the investment was "absolutely key" in enabling the business to move out of the startup phase into a "key national and international alcohol-free brand".
On top of the investment, Drynks Unlimited has begun to expand globally, gaining listings for its Smashed range of 0% abv beers across the entire Spinney's estate in the UAE, including its Waitrose stores.
To adhere to UAE law, Drynks Unlimited will rename its Smashed Lager as Smashed Gold and drop the word ale from its Smashed Pale SKU. The UK names will remain the same.
William Reed – the publisher of The Grocer – has launched a new exhibition exclusively for the low & no category. For more information, visit low2nobev.com.