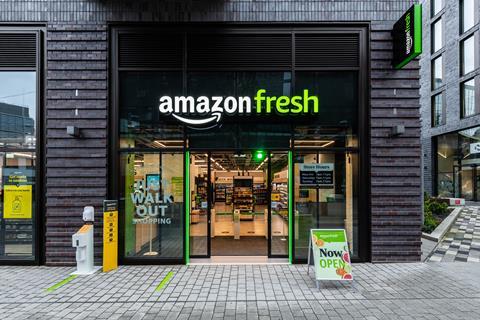 Amazon is to be brought under the jurisdiction of the Groceries Supply Code of Practice, in a move experts have predicted will have "huge" implications for the online giant's dealings with suppliers.
The Competition & Markets Authority, which in a previous inquiry had allowed the online giant to escape inclusion under the code, announced today that it would have to abide by GCA rules on how to treat its supply chain.
The CMA said it had taken into account Amazon's "increasing activity in the UK groceries' sector in recent years" in its decision to designate the retailer, with Amazon having reached the all-important £1bn from grocery sales needed to qualify.
Today's decision follows calls for years from many in the industry for Amazon to be policed by the Adjudicator, with claims that it has been allowed to operate outside rules designed to safeguard suppliers from delisting activity from other major food retailers.
In November 2018, a long-delayed review by the authority decided Amazon should escape the net of then-GCA Christine Tacon, after it found its grocery sales were not big enough for inclusion, despite online rival Ocado and the then fast-growing discount chain B&M Home stores being added to the list of companies policed by her.
The decision infuriated suppliers, who claimed it was not operating on a level playing field with traditional retail rivals when it came to their treatment.
However, announcing the new ruling, Adam Land, senior director, remedies, business, and financial analysis at the CMA, said: "Households across the UK are increasingly using Amazon to buy food and other essential items.
"Today's decision to designate Amazon helps to ensure a level playing field for companies active in the groceries sector as people's buying habits evolve.
"These rules mean that the thousands of companies supplying Amazon with groceries are now protected from potential unfair business practices.
"We'll continue to keep a close eye on the sector to make sure all major grocery retailers are bound by the same rules."
Groceries Code Adjudicator Mark White said: "I note the CMA's announcement that Amazon now needs to comply with the Groceries Supply Code of Practice. I am looking forward to meeting Amazon's code compliance officer as soon as possible and building on the strong progress that the GCA has made in improving relationships between designated retailers and their suppliers. I am here for any Amazon suppliers who experience code-related issues. They can contact me confidentially, either directly or anonymously via telltheGCA.co.uk."
An Amazon spokeswoman said: "We strive to build successful, long-term relationships with our suppliers and look forward to working with the Groceries Code Adjudicator. We are proud to work with thousands of suppliers and offer a great shop window for their products in the UK and around the world."
GSCOP expert Ged Futter, founder of The Retail Mind, described the decision by the CMA as "huge" for the industry.
"The fact is that Amazon doesn't have buyers in the traditional sense of the word, it has algorithms. Its list of terms and conditions is just enormous, and they are now going to have to look at every one of those to ensure they are code-compliant.
"This decision is not before time. For an organisation with £87bn worth of sales, for it to say it doesn't have £1bn was just not credible."
John Noble, director of the British Brands Group, added: "The designation of Amazon is positive news all round.
"Shoppers on Amazon can have confidence that suppliers are treated fairly and lawfully, suppliers can expect more predictable trading outcomes based on their agreements and it levels the field for large retailers, with them all abiding by the same rules."
He added; "In the highly competitive, fast-changing UK grocery market, it is important for the CMA to monitor continually those retailers that should be designated, something it is clearly doing.
"The outlier remains Boots, which has significant grocery sales but has so far evaded designation."