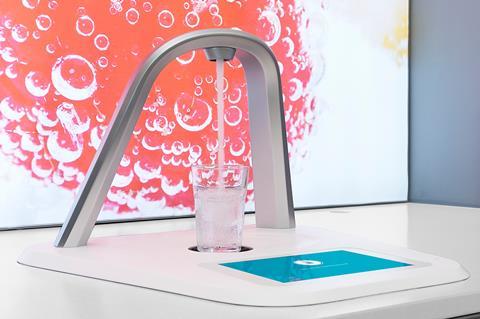 Aqua Libra Co has launched a digital "flavour tap" for water, which it claims will eliminate the need for single-use packaging.
The tap, which serves still or sparkling water in four flavours – Blackcurrant, Orange & Yuzu, Cucumber, Mint & Lime and Raspberry & Peach – was "intuitive to use with a simple touchscreen interface", it said, and was targeted at workplaces, hospitality or retail settings.
Under the countertop, a "high-tech cartridge" releases a dose of sugar-free and additive-free flavouring into the water.
Sensors on the flavour cartridges also simplified operations and maintenance, claimed the Britvic-owned brand, as they sent out automatic alerts when a cartridge needed to be changed, or if the tap was experiencing problems and required attention.
Each 500ml flavour cartridge was made with fully recyclable materials and would replace the use of 1,000 500ml bottles, it added.
The unit – available in countertop and freestanding options – was also capable of "delivering further flavours and added benefits in the future, such as electrolytes", it said.
It offered a "completely new solution within the healthy hydration market" and was "ideal for use in workplaces, hospitality or retail", claimed the brand.
The innovation was built using Amazon Web Services (AWS) and Internet of Things (IoT) analytics technologies, which enable customers to "analyse real-time data on the tap's usage".
It forms part of Britvic's 'Beyond the Bottle' strategy, which aims to enable consumers to lead healthier, more sustainable lives.
Britvic Beyond the Bottle product director Noel Dickson said the innovation had "the opportunity to revolutionise the market".
The solution was "reducing road miles and packaging, reducing customers' carbon footprints, and meeting customer and consumer demand", he said.
"We will be able to continue to expand our repertoire of flavours and additional functionality to ensure we are the long-term partner of choice for healthy and sustainable hydration solutions," Dickson added.
Britvic isn't the only soft drinks giant innovating to reduce the need for single-use plastic.
Take PepsiCo, for example, which last year made its biggest brands available for consumers to make at home for the first time, via a tie-up with its home carbonation brand SodaStream.